One of the most popular directions for Californians is Washington State. You may wonder why so many people leave one of the most popular and highly developed state with an eye-catching coastline and move to the north. The reasons and statistics are really overwhelming.
California has favorable weather, climate, jobs, and the university scene is also impressive. However, the state has high taxes, cost of living, and the housing cost is also very steep. Many residents have moved out of CA between 2007 and 2016. Most of them have an income of $55,000 or less. Most residents are going to Texas, followed by Arizona and Washington state. Between August 2017 and July 2018, the population of CA has decreased by 138,000 with 55,467 people moving to Washington state.
Washington state is among top five most popular states preferred by CA locals. In 2016, the quantity of people who arrived in Washington state from California has reached 51,485. However, this number was smaller in 2014 and 2015 - 30,587 and 35,185 respectively. Seattle remains the most popular city in Washington state for newcomers. According to Department of Licensing, only in September 2017, there were 1,724 new licenses given to the former residents of the Sunshine State. In general, the total number of people who moved from California to Washington state has exceeded 125,000 people for the last 3 years.
These are undoubtedly impressive figures if to analyze the average domestic migration statistics around the USA. If you are also thinking about moving to Washington State from the Sunshine State or any other corner of America, consider all the pros and cons of this decision.
The Cost of Moving to Washington State
Relocation to the Washington state will cost you money, whether you do it yourself or hire a professional service. Compare the pros & cons before deciding. This is an interstate move, so it will cost more than a local transfer. Most people get professional help because moving involves safely packing all the items, loading them to a vehicle, logistics management, safe unloading, and unpacking. Everything must be delivered safely and on time. Most individuals don't have the knowledge and experience of this. Reading tips and guides may help. But even that may not be adequate.
Full-service movers offer both a professional organization of interstate moving and also only some of the services needed. It is possible to order a truck, loading, transportation, unloading, temporary storage and purchase of the necessary supplies as well as leave all these responsibilities for the company staff and have everything planned.
*Moving costs for 1bdrm apartment. Includes: Truck + gas, mileage, etc. 2 professional movers + tools. Blankets. Wardrobe Boxes. Assembly/Reassembly. Tax&Insurance.
California Vs. Washington State
Washington state fares better than California according to data released in October 2020. CA has an unemployment rate of 9.3%, whereas it is 6.0% in Washington. WA's per capita GDP is 79,570$, which is higher than California's 79,315$. The cost of living is cheaper too. WA residents can expect to pay 6% less at restaurants, 11.9% less for groceries, 1.3% less for transportation, 1.9% less for childcare, and 15.6% less for housing, which means there will be lower rent price and monthly savings.
Benefits
Despite the popularity of the states California borders with, many locals of the Sunshine State decide to move to the north of America choosing Washington state for this purpose. What attracts them there? Why do so many people cover such a great distance? The answers to these questions could be found in the list of benefits the state offers.
1. Intelligent people
When you move to Washington state, you immediately spot that you appeared in the absolutely different community. People living here take care about their health and body as well as a mind. You will probably see much fewer overweight individuals there. Moreover, the state is in the top 10 of the most educated ones - 44% of the population own Associate and higher degrees. In addition, Seattle takes the second place in the country for the number of educated people living there.
2. Affordable housing
This feature of Washington State can be certainly included in the list of benefits if not to consider Seattle. However, if you choose one of the cities like Olympia, Richland, or Auburn, the median home cost will be $200,000-$240,000 - less than the average cost around the US. Bothell and Redmond offer houses that cost significantly higher - $344,000 and $462,000 respectively.
3. Employment opportunities
Washington is a Mecca for people who want to get a good job. The main reason for that is a huge list of globally renowned employers with headquarters located in this state. Think only about an opportunity to work for Google, Amazon, Boeing or Starbucks! Despite the unemployment rate of 4.5%, the gain in jobs in August 2018, for example, was over 9,100.
4. Environmentally friendly state
The first thing that strikes your eye when you come to thirst state is greenery. Unlike California, it is a state with a variety of parks, forests, and water. There's a huge area of near-water location, as well as ones of the best environmentally friendly characteristics. In 2015, Washington was ranked the best bike-friendly state. There is a better air and water quality, more green space, a huge portion of energy conservation, a Clean Car Law for all means of transportation, new green buildings, 70% of waste recycling - impressive, isn't it?
5. Great recreation and outdoor activities
WA can boast three national parks that offer a variety of outdoor activities for enthusiasts. You can go hiking, cycling or rock climbing there. Huge reservoirs of water like lakes, rivers, and ocean are great for sailing, boating, fishing, kayaking and even gazing at whales. In cold seasons, mountain peaks are perfect places for winter sports too.
6. Excellent education
What makes education in WA unique? Of course, it is the fact that since 2015 college students have received an opportunity to reduce tuition by 15-20%. That means that you need less time than 4 years to get a college degree. Moreover, WA is a home to several famous universities.
7. No state income tax
Fortunately, for the residents of WA, this is one of 7 US states that have no personal income tax.
8. A lower violent crime rate
The chances of an average resident living in WA to become a victim of a violent crime are 25% lower than around the US. The probability is rather low - 1 in 331. However, there is a higher percentage of property crimes in the state - over 40% more than around the US on average.
9. Diversified growing economy
The variety of industries that are developing in Washington state make it appealing for investors from other countries. It is possible to promote your business to the international level, as there are many ports and a comparative proximity to such a country as China, where many American companies set up manufacturing plants.
10. The highest minimum wage and the cheapest electricity
Despite the fact that the state cannot offer the cheapest cost of living, it still guarantees affordable living for some people. There is the highest minimum wage per hour in the whole country - $9.47. Moreover, the state can boast the third cheapest electricity in the USA due to the multiple hydroelectric dams.
However, next to the reasons that encourage people to relocate, there are some negative things you'd better know before moving to Washington state too.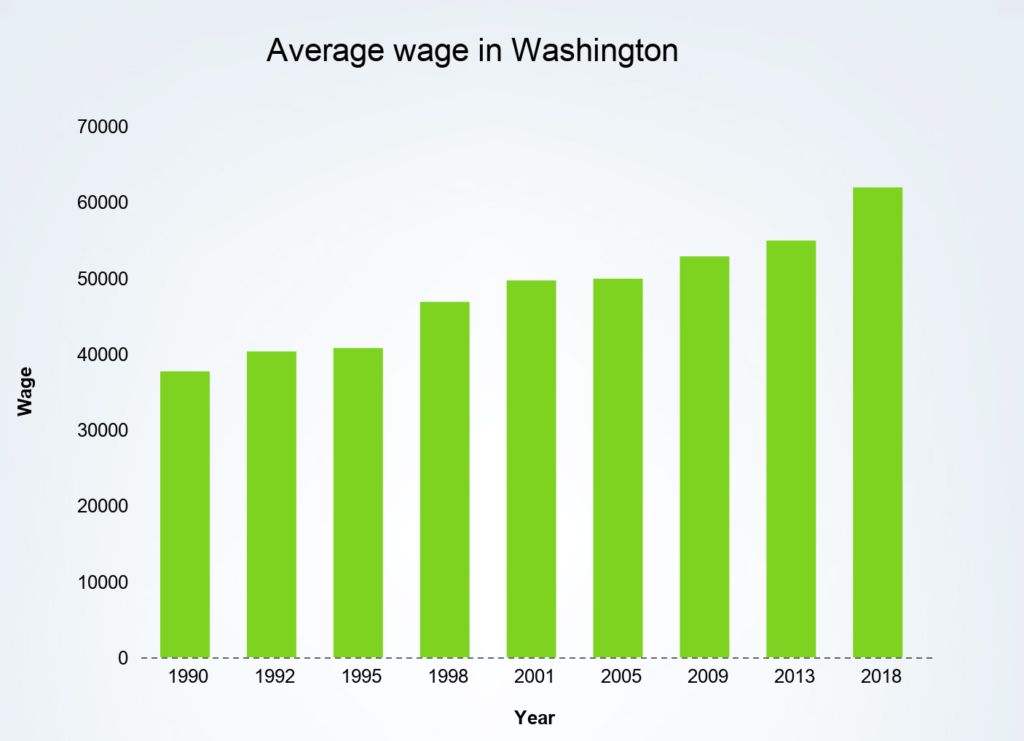 Resource: www.ofm.wa.gov
Disadvantages
Unfortunately, there are no perfect places for relocation and WA has also a number of negative sides you should learn before moving.
1. The average cost of living
Though it may seem that people arrive in Wasington because of lower prices, in fact, things are absolutely different. Cost of living in Seattle is 48% higher than the national average one, but even if to take not so big cities like Olympia or Vancouver, you will have to pay 4% and 3% more here than in average around the US.
2. Tax policy is awful
Unfortunately, despite the benefit of the absent state income tax, the state can 'boast' regressive features of the tax policy. There is a high combined state and local sales tax rate - 6.5% and up to 10.4% respectively. There are also other local-level taxes that are rather complex in comparison with other states.
3. Weather and topography
The Cascade Mountain Range divides the state into two climate zones. The western part has a moderate climate with an abundance of rainfall, while the central and eastern parts of the state are characterized by a dry climate with temperature extremes. One more thing to consider is the fact that WA is a home to several active volcanoes and there is a high probability of storms and hurricanes.
4. A high unemployment rate
Despite a variety of jobs in the market, the unemployment rate in the state is 6.4% and it is the 9th place in the USA.
5. High number of property crimes
The local police have no time to sigh with relief as Washington is ranked the first in the number of property crimes all around the US. Over 254,000 property crimes were there last year.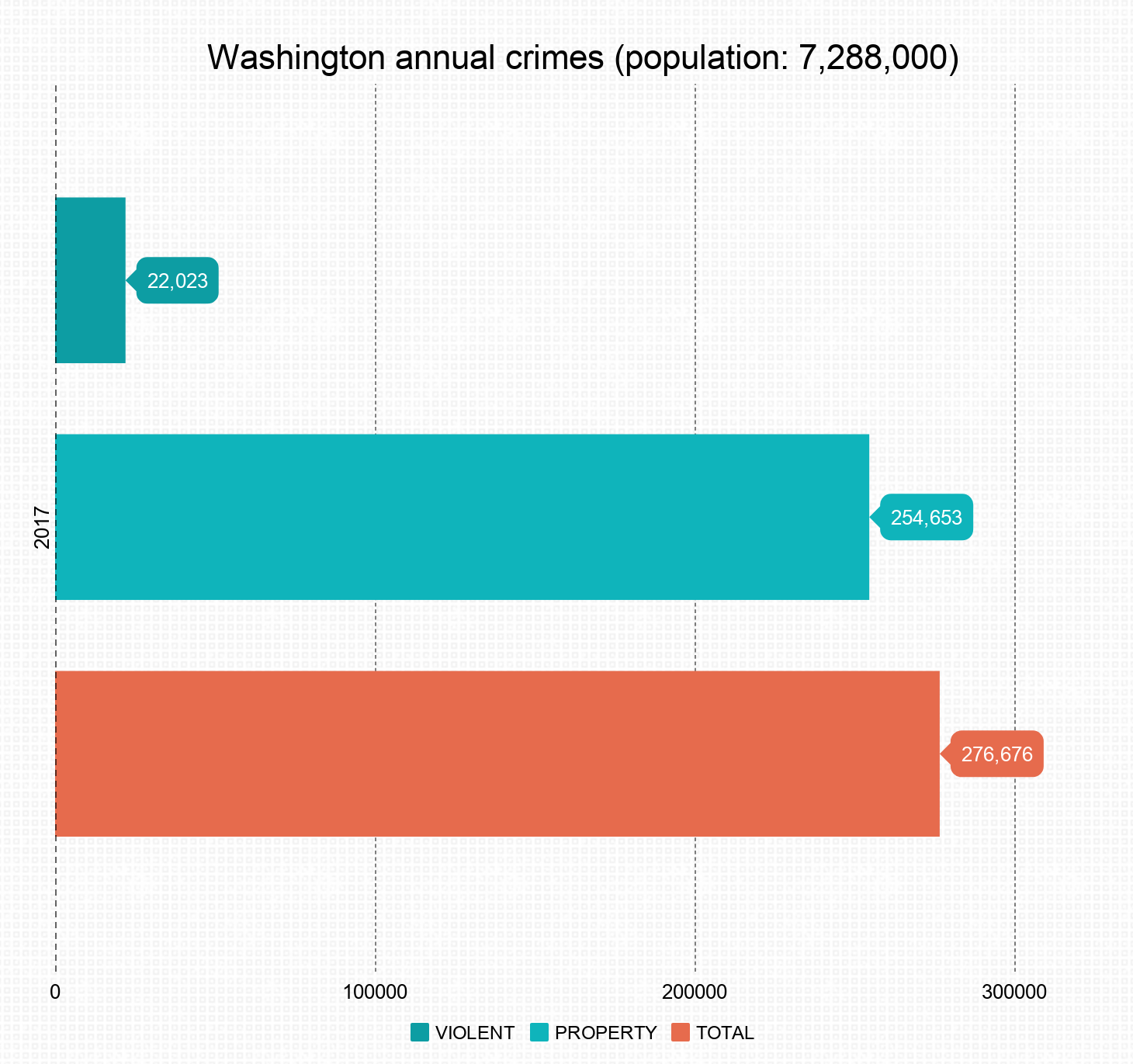 Resources: neighborhoodscout.com, www.fbi.gov, www.cityrating.com
6. Legal marijuana
The domination of liberals in the state led to the legalization of smoking marijuana. Don't be surprised to see smoking people in the street!
Tips
If you plan to relocate to Washington state from California, look through the following tips to make your move smooth, safe and scheduled.
Find a reputable moving company. Professional assistance is a guarantee of the security of your belongings, especially when you need to cover such a big distance.
Get prepared for weather surprises. There will feel a huge difference in weather conditions in CA and WA, so protect the cargo well and take warm clothes not to get cold.
Dealing with heavy traffic in Seattle. Seattle metropolitan area is very busy, so be prepared to meet with heavy traffic in the morning and evening as well as on Friday and weekends.
Prefer smaller cities to Seattle. It is more affordable to live in smaller cities of the state rather than get huge bills in Seattle.
Register at the new place of living.
Early registration is a key to a fast changing of a driver license, voting and many other benefits offered to locals.
Where to move to in Washington State
Thanks to a quite large area and diverse climate and topography, every city of the state offers its unique experience for newcomers. Here is a list of the most popular cities to move to in WA.
Seattle, WA Seattle metropolitan area is the most densely populated one in the state. Over 700,000 people live in the city now, while about 4 million people live in the metropolitan area. It is a port city with a variety of possibilities as even the wealthiest person on the planet has chosen it.
Vancouver, WA With the population of 162,000, Vancouver is the largest suburb of Portland. The local economy is based on high tech and service industry jobs as well as a huge port operates here on the Columbia River.
Forks, WA Forks is a small town with only 3,800 local residents. It is known for a well-developed timber industry and tourists attracted by a novel series Twilight filmed there.
Olympia, WA The population of Olympia is a bit more than 46,000 people. Its relative proximity to Seattle and affordable home prices make it attractive for newcomers. It is a center of fine arts and busy theatrical life.
Spokane, WA The city has got its name thanks to the river it is located at. There are over 217,000 people who live in the city and twice more people in the metropolitan area. It is a significant rail and shipping center famous for its natural resources.
Tacoma, WA Being also a port city, Tacoma is a home to about 200,000 people. Known as a 'City of Destiny', it is a business activity center of the South Sound region and place where several international companies have located their headquarters.

Median home listing price
What does the median mean? So, literally "in the middle". Or this means exactly half of homes listed are above this price and exactly half are below. For example, there are 5 homes for sale in a market at prices of $275,000, 300,000, $350,000, $450,000, and $700,000. The Median Price would be the one in the middle, or $350,000.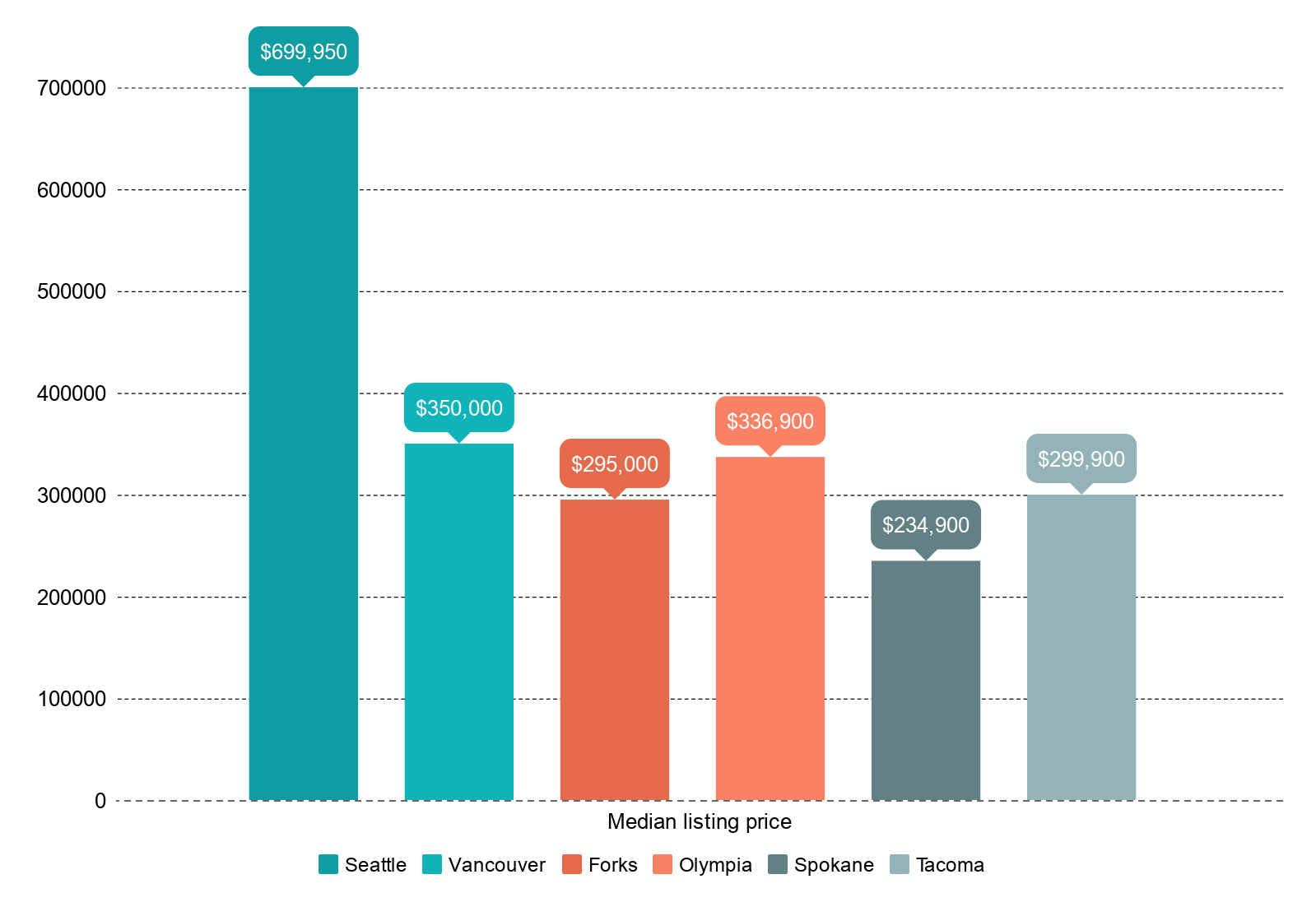 Resource: zillow.com
Helpful resources for your relocation
Learn about Washington state government at https://access.wa.gov/topics/government/state.html
Find education opportunities at https://www.education.wa.edu.au
Look through employment opportunities at http://www.seattle.gov/personnel/employment/.
Obtain a WA residence at http://access.wa.gov/topics/living/becomeresident.html
Get a local driver license at http://www.dol.wa.gov/driverslicense/moving.html