Do you plan to move your office from one city in the Western US to another? Or, perhaps your plan is to expand your business to another state in this part of the country? If the answer is yes, you are in the right place. Professional office movers stand at your service!
FAQs regarding you move:
How to Find Office Movers Near Me?
How Do You Cope with the Time Pressure of Office Relocation?
How Do You Relocate IT Appliance And Furniture?
Where Can You Safely Store My Office Inventory?
Office Moving Costs
How Can I Be Sure That You Are Reliable?
Why Moving with California Movers Is So Beneficial?
Office Relocation Checklist
Get a Moving Quote
How to Find Office Movers Near Me?
There's no need to look for them – you've already found the best office moving company in the Western United States! As long as you're located in this part of the country, you have nothing to worry about. Just put your trust in our office relocation team and we will take care of everything else!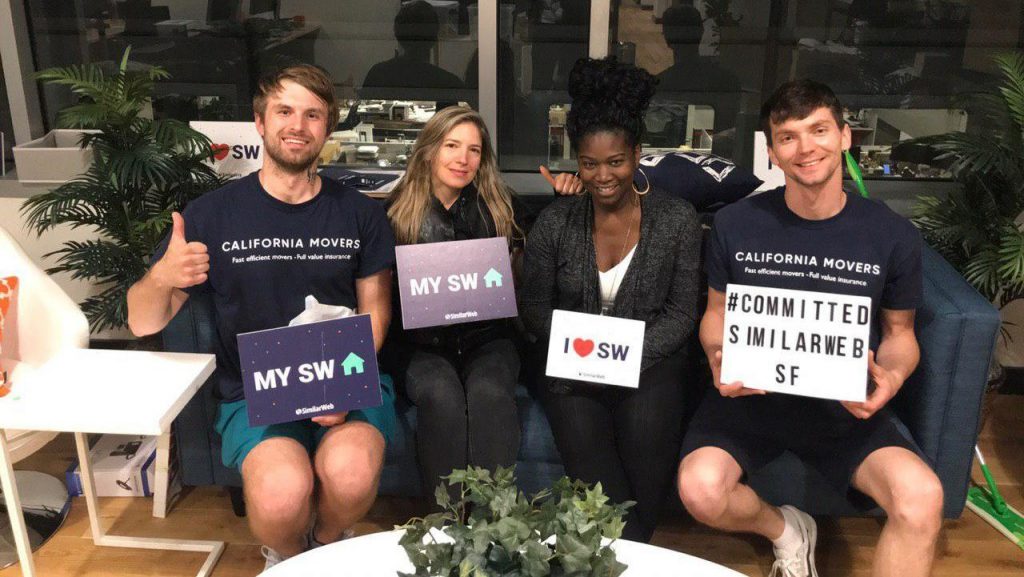 Photo: California Movers
Short, interstate or just long-distance moving of your business doesn't have to be troublesome. We gained a reputation of one of the best office moving companies and carry out both local and long-distance office relocation. Our skilled team of movers is available to move you any day of the year and as far as you require.
How Do You Cope with the Time Pressure of Office Relocation?
California Movers carries out different kinds of commercial moving services. Office relocation involves interruption of all business processes; that is why it is essential to perform the move swiftly and effectively. California Movers company appreciates your time and knows how to make every move a success. Our expert movers will ensure your business move goes smoothly. For that we do:
Organizational part
We prepare an estimation of work scope, and on the basis of these estimations, we make an office relocation plan and schedule. Therefore, we do everything promptly and orderly.
Availability of service outside of working hours
As professionals, we value your time and can perform the relocation activity on weekends or after official office hours.
Deliberate backup plan
Office relocation companies often neglect the possibility of unexpected situations. This leads to substantial delays in delivery or packing. We are always prepared for force majeure circumstances and successfully cope with them.
Collaborating with California Movers you get the chance to avoid a lot of problems such as disorganization, cash overpayment, separate costs, hidden extras, delivery delays, and inexperienced movers.
How Do You Relocate IT Appliance And Furniture?
Taking into consideration the fact that relocation of your IT infrastructure is a high-risk operation, which involves moving of server equipment, components of IT system, faxes, printers, scanners, and other breakable and sensitive office items, we follow a secure system of packaging, transporting, and unloading of your business items. Our trucks are moisture-proof, clean and fully equipped for keeping your items safe and secure. Best local and long-distance movers will assist you from the preparation for your office relocation through to final check.
Proper uninstallation;
We provide careful uninstallation ensuring that each computer will get back to the right office worker.
Professional packaging;
The right place in the truck makes a difference! We load your cargo so nothing will be damaged on the way to a new location.
Where Can You Safely Store My Office Inventory?
If you need moving company with storage options during your move California Movers as a full-service well-trained relocation company can provide a flexible and clean storage space at affordable prices.
Climate-controlled storing units
Our specialists will store all your items and equipment at alarmed and equipped storage unit as long as you need.
Possibility to arrange any required conditions
We offer to store an inventory of all shapes, volumes, and sizes. And when you need your items, we can deliver everything as soon as possible.
What is office Moving Costs
It all depends on a number of different factors, including the moving distance, type of service you choose, and so on. Still, there's one thing we can tell you for certain – if you choose us for office moving services, you will not get ripped off!
Our office relocation services are among the most affordable in the United States, especially when the quality of service is taken into account.
How Can I Be Sure That You Are Reliable?
A fair question! And we've got the answer you want to hear – our office moving company is licensed for this type of work. We have a permit to do cross-state moves, which is something only the best ones can get.
Furthermore, we like doing business fair and square, which is why all the terms will be included in the contract, without any small print!
Another reason why you can trust us is that we're an insured company, meaning that if something happens to your stuff, you will be reimbursed.
But, worry not, nothing bad will happen to your items – they're going to be handled by experienced professionals. And you can check that yourself by taking look at the positive reviews of our previous clients.
Why Moving with California Movers Is So Beneficial?
Here are some reasons why we're your best choice when office moving and storage is concerned:
We cover the entire region of the Western United States
Our office mover team is made of experienced professionals, driven by the wish to help out each client
We have all the licenses necessary to conduct this business
Your items will be insured over the course of the move
We're one of not-too-many office moving companies that offer storage service as well
Our rates are among the most affordable you can find
California Movers is a customer-orientated company, you can get in touch with us for literally anything regarding your office move
We do our job transparently and will give you a free quote without any conditions attached
The process proceeds amenably to the pre-arranged plan that allows moving any commercial object just on schedule
We provide short-distance movers as well as long-distance ones/li>
California Movers performs proficient office moving services. Thus, relocating of your business object whether it is an office, shop or workshop, will pass without any income loss.
Office Relocation Checklist
If you decide to hire our professional office movers for your move, you will not have to do anything else. We will take care of all the work. Of course, before you get to a point when you need our services, there are a few things you will have to take care of, including:
Finding your new office
Deciding which stuff go with you and which ones are left behind
Deciding which items need special care during the transport
Deciding how urgent the move is
Get a Moving Quote
If you need any help with planning your business relocation, we stand at your disposal ready to give you some honest tips. You can get in touch whenever you feel like it, not just for advice, but also to ask a free moving quote from us.
Call us now and we'll respond to all of your questions right away!