Local moving with California Movers
Moving within the same city or metro area is known as local relocation, but not all the companies agree to provide local movers for this purpose. They do not consider this type of business profitable and prefer to avoid such orders. However, you will get qualified moving assistance from California Movers no matter how close your new home is. Our company considers local relocation as important as long-distance one, so you can appear in your new home in several hours - it is enough to call us for help.


Photo: California Movers
Only imagine how exhausting it can be to fill boxes with your possessions, pack fragile and valuable items correctly, load all those heavy pieces into and out of the truck, walk hundreds of stairs up and down and complete many other tasks at the time which can be spent for many other useful activities. There is nothing surprising that all these challenges can be tackled by professional movers and you can celebrate your new page of life at that time.
How to hire local movers for an affordable price
Moving local is much more affordable than paying for services of long-distance movers. Relocation costs will not go out of the reasonable limits if you choose a low-cost moving company like California Movers. In fact, it does not make much difference whether you move behind the corner or to another neighborhood, the cost of moving will depend mostly on the number of services you will require.
Our company offers a wide array of moving services and the necessity to include them in the total moving cost is often discussed with every client personally. Consequently, if you want to make your relocation strategy more cost-effective, it is possible to order only those services which you can not cope with yourself. Look through the list of our services below to choose those you really need.
If money is one of the main reasons why you can not afford hiring professional local movers in the Bay Area, there are several ways how to have your relocation paid for partially or even fully.
American taxpayers can count on deductible moving expenses. They should apply for Individual Income Tax Return if they move to a new place because of a job or business. However, the cost of moving locally can be deducted only if the distance you relocate to is over 50 miles.
At the same time, it is not the only way to get reimbursement for your relocation expenses officially. There are many governmental and charity organizations that support people who run out of money but need to change their place of living. You can apply for monetary help in several organizations if you meet their requirements. A detailed list of charities that provide money for relocation can be found here.
What local moving services California Movers provides
The variety of services provided by affordable local moving companies can be rather limited, but that has nothing in common with California Movers. The only aspect taken into account by the company employees is the comfort of the client, so you will undoubtedly appreciate how various these services are.
Moving for any distance - no matter how short or long it is


The efficiency of moving solutions offered in both cases is unquestioned. We never measure the quality of services provided by the distance - every order is a priority for us.
Residential moving vs office relocation
Are you moving out of a home or an apartment and taking all your possessions with? Are you a small business or a large plant changing your location? Our team is experienced enough to complete household, corporate or industrial relocation successfully on request.

Storage option


If your new home or office is not ready for the arrival of your possessions, win some time by renting our designer storage units and leaving your belongings in the secure and accessible place.

Packing, loading, transporting

All the basic moving services from professional packers that will help you to gather all your possessions, load them in the truck, transport to the new place of living and receive them there in the excellent state are included in the list.

Piano move


Heavy and bulky pianos, pool tables, industrial machines are seamlessly delivered to the final destination thanks to the professionalism and experience of our staff as well as the use of special equipment and tools we possess.

Military and government relocation


Is your family moving to another base or you take another government job? No need to worry about this fact with our dedicated and friendly moving team.

Additional services


If thoughts about a necessity to connect your appliances, assemble furniture pieces or clean your home from rubbish drive you mad, California Movers team is here to save you too. Our extensive list of extra services will help you to sigh with relief in your new home.
Why license of your mover is an important factor
What differs professionals from amateurs? Undoubtedly, it is a license given by the authorized organizations to moving companies that meet their standards and regulations. Our company considers trust a very important feature of a reputable mover, so we constantly improve the quality of services provided and have all the necessary licenses that prove our professionalism.
However, it is not the only reason to call California Movers a trustworthy company. Unlike many other movers who insure cargo by weight, our company guarantees full value insurance to every customer. Nobody is protected from unpredictable situations in our life, but with full value insurance, you will undoubtedly get a refund of all your valuables. It means that there should not be any prerequisites to worry about your belongings and our movers deserve your trust.
How to find local movers near you
When you choose a company to move your possessions, probably, you will prefer to hire movers who have worked near your location for a long period of time already. Our company works all over the west of the US and has offices in many large cities. It means that you should not wait for a long period of time to get a truck and movers, because our managers react to every order immediately and you can choose a suitable date for relocation without any doubts.
California Movers' headquarters are located, of course, in California. Residents of any Californian city or town can rely on our company if they need high-quality moving solutions, but we never refuse to help people who live in the western states of the US too. Even if you are located far from the Sunshine State, you will feel our presence and care about our clients since there are no limits in the distance if we are asked for help.
What a local moving with California Movers has to offer
All local moving companies offer a number of relocation services to their clients, but California Movers keeps much more in store. In addition to standard moving solutions, the company features a number of unmatched benefits that make it a real leader in the market. Consider what you will get if you turn to our company for moving services.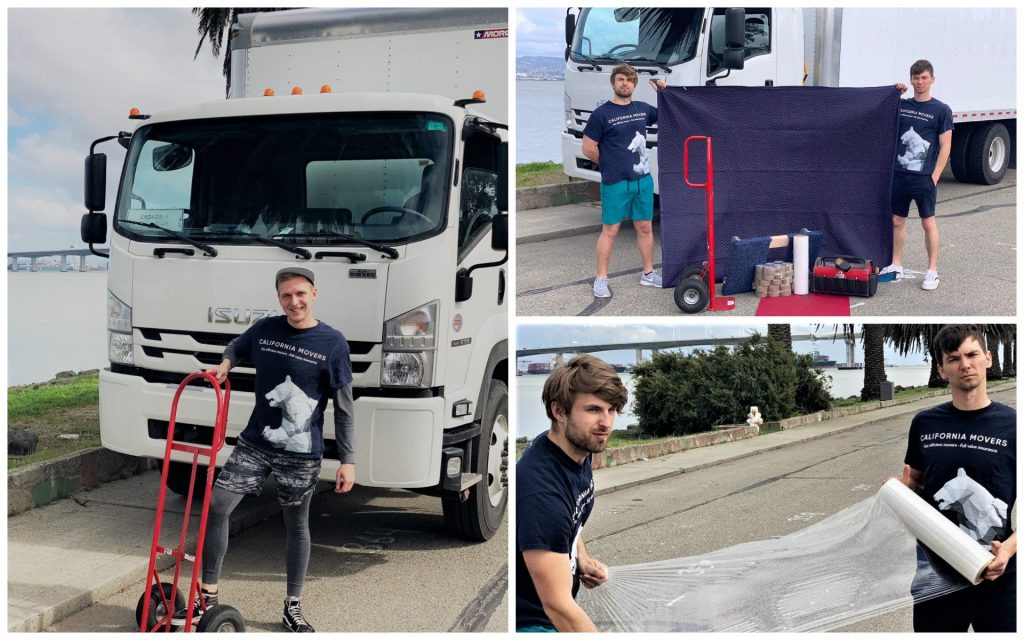 Photo: California Movers
A team of strong, friendly, and careful movers who treat our clients' possessions as their own ones.
The choice of vehicles out of more than 20 new professionally equipped trucks of different sizes.
Timely delivery of the cargo - get $1 per every minute of being late.
Clear and transparent pricing policy.
Possibility to select the day of cargo pickup and delivery (including weekends).
Full value insurance of all the items in the checklist.
The moving process is performed by one team on both destinations.
All moving services are in one place - no need to waste extra time and money.
No limits regarding the minimum distance for a local moving company.
Efficient and fast-moving is performed by certified and licensed movers.
Get a local moving quote
The main reason why many people avoid turning for local home moving service is their doubts about whether they can afford it. However, a rolling stone gathers no moss - if you do not undertake any actions, you will remain with your problem unsolved. California Movers wants to let everyone see how affordable and comfortable moving with professional assistance can be. For this reason, it offers a free moving quote to everyone who is thinking of the necessity to change a current place of living.
Every person can visit the website of the company and leave there a request for the calculation of the moving cost. The company representative will visit the home or office of the applicant and compile a checklist of items to be delivered to a new place. In a couple of days, a person will learn how much he will need to pay for moving with our help and make his final decision. Don't lose your chance to get professional help from dedicated movers in the Bay Area! Send your inquiry today to book a comfortable date as soon as possible.