If you once face the issue of moving for a long distance to another state, there are no doubts that the most reasonable solution is to turn to the state to state movers. Only professionals can cope with this challenge at the highest level, so the final choice must be made in favor of one of the
highly rated
and licensed state to state moving companies.
There are many things to be considered when you have to move to a new state. For your relocation not to be cumbersome and complicated, it must be planned, organized and coordinated by experienced out of state movers. However, many customers refuse to hire moving staff being unaware of answers to the popular relocation questions. Being not aware of the facts connected with hiring a moving company they make a great mistake trying to cope with this challenge themselves.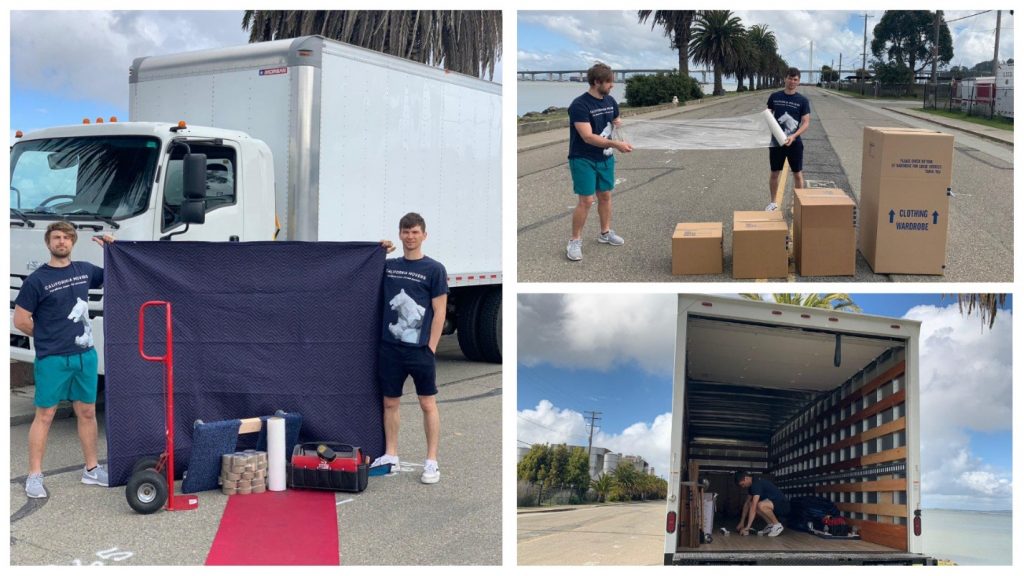 California Movers has helped many people to feel all the benefits of a smooth and well-organized move. Its goal is to prove to people that relocation can be associated with pleasant recollections if performed by licensed and experienced movers. At the same time, if you have doubts about cooperation with a moving team, our company wants to help you make the right decision offering answers to the basic questions customers are interested in.
FAQs regarding your move:
What is the best way for a state to state move?
How much will out of state movers cost?
How to choose state to state moving company?
What a move with us has to offer
Get a quote within 15 minutes!
What is the best way for a state to state move?
Many people get astonished when they learn about the necessity of moving out of state. The first thing crossing their minds is how to deliver all their belongings to the new place of living.
Naturally, there are several factors which impact out of state move including a moving budget, number and volume of possessions to move, choice of transportation, time frames, etc. It is natural that the fastest way to perform state to state moving is a plane, but it is also the most expensive one. Moreover, your belongings will be loaded and unloaded for several times and it can lead to damages and losses.
Many people prefer moving by car to moving by train because you can take something with and are not dependent on the schedule. However, there is hardly any better way of out of state moving than putting all the responsibility for the process on the state to state movers. There is no need to rack your brains who will pack and load your items and where to take packing materials, how to hire a moving truck and avoid unpredictable situations on the day of your move. The only thing left to people who are moving is to choose a full-service mover and inform the company about the relocation date, time, and services required. Forget about moving hassle with the best way of relocation assisted by certified professionals.
How much will out of state movers cost?
The main reason which prevents many people from turning to state to state movers is fear not to afford these services. However, there is still a necessity to get some packing materials, find a vehicle to load or order any additional services such as cleaning, furniture disassembly. All of them will cost money and it often happens that people pay for them more ordering them in different companies than they could if they hired one of full-service out of state moving companies.
Naturally, the cost of moving depends on several factors including the distance to be covered, weight and volume of freight, list of services required, season, day and even time of the move. When it comes to California Movers, we usually charge an hourly rate which may differ depending on the factors mentioned and the number of movers in the team. At the same time, if a question of the moving price is an obstacle which does not allow you to order professional moving services, our company offers our potential customers to be a free moving quote and ensure that relocation with the assistance of experts can be affordable, let alone all the other benefits you will get.
How to choose state to state moving company?
The success of every out of state move depends on the choice of the company since only experienced movers can provide you with all the benefits promised. If you do not want to make a rough mistake in the choice of state to state movers, it is very important to know what to pay attention to when you hire a relocation team:
Analyze the reviews and referrals of other clients who have already used services of the certain company;
Get at least three estimated from different moving companies to compare them and select the best price for the most extensive list of services;
Leave an office of the company which asks for cash deposits, suggest estimates which do not guarantee the absence of changes in the moving cost, rents equipment, lacks professionalism;
Check the mover license with the DOT number given by the FMCSA;
Visit the Better Business Bureau and check for the company accreditation and rating;
Verify the address and phone mentioned in the contact information;
Ask what is included in the moving price and if there are any services to pay extra;
Ensure that cargo is insured by the company etc.
What a move with us has to offer

Sometimes there is no need to put much effort and time for the search of a trusted moving company since your best offer is located next to you. If you leave California or any other Western state or vice versa plan to settle in this Sunny State, your reliable mover is already here. California Movers performs premium moving out of state services to make relocation a pleasant experience in the lives of our customers. When you choose our moving team, you immediately get a number of the following benefits:
A licensed and certified moving team serves one order both at the initial point and final destination;
The list of services offered includes not only standard moving but also many additional services for the comfort of our clients;
Affordable prices and a free estimate;
Timely delivery without delays – every minute of being late is your 1$ reward;
A fleet of the professionally equipped vehicles of different sizes;
One truck serves only one client – no add-ons and leaving the basic route;
Per-item Insurance – unlike other companies which insure cargo by weight, you can be confident in the perfect condition of every item moved;
Possibility to organize relocation on weekends, holidays, and at night;
Air-conditioned and secure storage units for rent which can be accessed any time.
Get a quote within 15 minutes!
Do you still doubt turning to California Movers? We have one unsurpassed argument which will encourage you to take a step forward to us. Every client of our team who provides information about the move planned is eligible for receiving a free quote within 15 minutes. If you want to get an accurate moving quote, let us know the place you are moving from and the final destination of your relocation, date and time of the move as well as the size of the home or apartment to be moved. Our staff will evaluate this information as fast as possible and contact you within 15 minutes to inform you about the final cost of your move.
What makes California Movers outstanding is a guarantee that you will not pay more than the price indicated in the moving quote. Moreover, if our company representative will not suggest your moving quote within 15 minutes, you will get a 10% discount on all moving services ordered. Does it sound persuading? Don't waste any minute and let our professionals deal with your relocation!