The Bay Area in California has not only attracted thousands of people but also disappointed a huge number of the American population by the incredibly high cost of living, home, and rental price. It is a reason why many people admit moving from San Francisco to Los Angeles, another metropolis affordable not to everyone.
*Moving costs for 1bdrm apartment. Includes: Truck + gas, mileage, etc. 2 professional movers + tools. Blankets. Wardrobe Boxes. Assembly/Reassembly. Tax&Insurance.
| | | |
| --- | --- | --- |
| Route | Way to move | Average Moving Price, $ |
| SF – LA | Airline flight | $145 |
| SF – LA | Train | $40 |
*The price doesn't include the expenses for moving personal items. This way of relocation is not an option for moving an apartment. Read more about ways of moving >>
San Francisco moving statistics has spoilt for the last 2 years. In 2017, it became the first among US cities with the highest "outflow" of the residents according to Redfin report. It was estimated that this loss was over 15 thousand citizens, and it is 24% more than the next US city in the 'blacklist'. 2018 was not also a year of exception, as in February, 49% of San Francisco residents were planning to move from the Bay Area according to the survey by Edelman firm. In October 2018, the number of net outflow from San Francisco has reached 28,000 people as reported by Redfin reports, so it is not difficult to suppose that this number will grow by the end of the year too.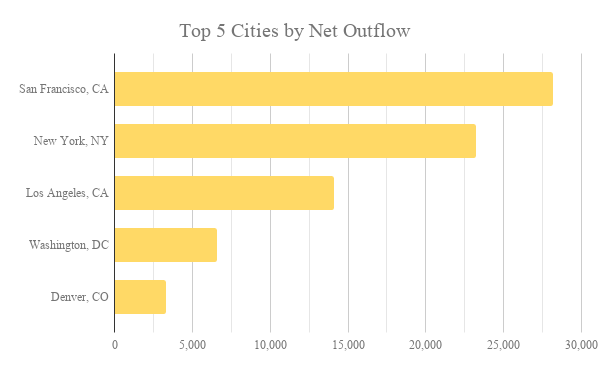 Net Outflow 2018 / Data by Redfin
Another fact that proves a significant outflow from San Francisco is prices set by most of the moving companies. If you plan to move to Nevada from the Bay Area, be ready to pay twice more than if you move in the opposite direction.
What are the most popular destinations to relocate to? The biggest number of the residents of the Bay Area prefers to move to Sacramento, but the City of Angels takes the second place followed by Seattle, Portland, and San Diego.
San Francisco vs Los Angeles
You may wonder why everybody moving to LA from SF. In fact, it is important to compare both these cities to understand the reasons. We have analyzed 12 important factors to be considered by every person who is planning the move. It will help you to see all the pros and cons of living in both cities and decide should you relocate to Los Angeles or not. Look through the table below and you will see a winner in every 'nomination' as well as find out where they can face a draw.
Comparison table by California Movers
Benefits
1. Cost of living
Undoubtedly, the main reason that makes people look for moving services and leave San Francisco is an overwhelming cost of living. Even Los Angeles being one of the least affordable cities on the planet seems to offer more reasonable prices for everything. If to analyze data by Numbeo, consumer prices are higher by 17%, groceries prices – by 26%, restaurant prices – by 8%. It is twice more expensive to study in the private school in San Francisco. Health insurance index is by 9% higher in the Bay Area. The overall cost of living in LA is 56% lower than in San Francisco, California.
2. Average home price
The main difference in the cost of living constitutes home prices. When a square meter of the apartment in Los Angeles is estimated at the range between $4,000 and $7,000 in average in San Francisco this range is between $7,000 and $12,000. The median home price in the Bay Area has risen by 25% only in the first quarter of 2018 and hit $1.2 million. In Los Angeles, for example, this figure is equal $669,000. It is 2 times lower than in San Francisco.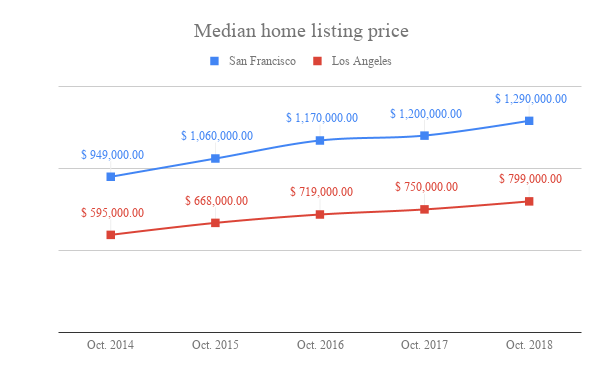 SF vs LA home median listing price / Data by Zillow
3. Rent
Prices for rent in both these cities feature the same impressive difference. A 1-bedroom apartment in the city center and outside it in Los Angeles costs $2,100 and $1,600 respectively. You will have to pay $3,350 and $2,600 for the same apartment in San Francisco. The difference in 3-bedroom apartments in these cities is over $2,000 too.
4. Weather and climate
It is a common truth that the climate of California is the most preferable for life. Though both these cities are characterized by the Mediterranean climate, there is some difference in weather and climate between them. Los Angeles is generally warmer than San Francisco round the year, while the last one features a wetter and cooler weather. There are 73 rainy days during the year in the Bay Area with 603 mm of precipitation, while this number is only 300-380 mm in the City of Angels.
5. Cheaper and more quality education
It is natural that moving to another city you think how to transfer your kids to a new school. However, you will be pleasantly surprised to learn that education in LA is a bit better than in the Bay Area. If to compare SAT test result scores, students from Los Angeles a higher average result of 1070 (1050 in San Francisco).
If to compare higher education, according to the data provided by TopUniversities, Los Angeles has been ranked 35th in QS Best Student Cities ranking. It has been achieved thanks to three higher educational establishments that are included in the world's top 150. San Francisco took 38th place in this rating thanks to two prestigious universities that take the 2nd and 27th place in the world's list.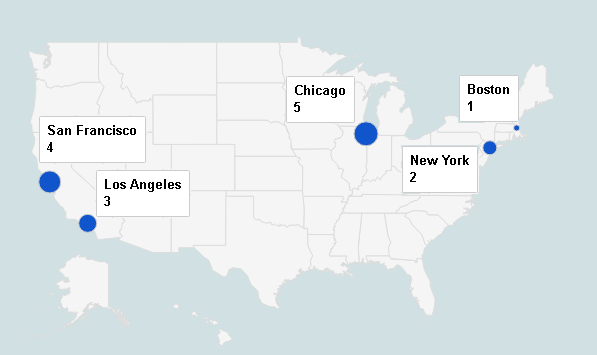 Best places for students / Data by topuniversities.com
6. A diversity of outdoor activities and entertainment
Somebody will agree that both San Francisco and Los Angeles have a similar variety of different activities and entertainment, but still, the City of Angels is one step ahead. It is natural that a variety of trails, sandy beaches, mountainous areas allow taking up many interesting activities including surfing, hiking, climbing, cycling, and many others.
Being home to Hollywood, it is the only place in the country where the number of movie stars and celebrities per square meter is very high. You can also see how modern films are produced and walk along the road where hundreds of famous people left their handprints.
In addition, Los Angeles can boast some unique events that take place only in this urban area. It is enough to remember the California Strawberry Festival or Los Angeles Marathon to understand the grandiose character of such events. You can also enjoy sports competitions here regularly, as LA is home to several professional sports team to cry for.
7. Crime rate
Despite a significant difference in numbers of crimes in both these cities, it is reasonable to compare their rate per 1,000 people. The population of Los Angeles is over 9 million people with a rather big number of violent and property crimes (42,725 and 217, 493 respectively). However, if to compare this crime rate per 1,000 residents, it turns out to be much lower than in the Bay Area: 4.3 violent and 21.8 property crimes in LA against 8.2 violent and 55.4 property crimes in SF.
8. Mentality
Naturally, these cities have features where it is impossible to determine a winner or loser. That is the reason why some lines in the table contain the word 'draw'. For example, though it may seem that people who live in metropolises are estranged and think only about their own problems, in Los Angeles things are absolutely different. Of course, there are individuals into themselves, but the biggest number of population is sociable and open to communication. They are friendly and ready to support in any life situation. People living in San Francisco are characterized by many positive epithets too. They got used to their measured life and enjoy eloquent discussions as well as help each other in troubles.
9. Industrial diversity
Industrial diversity is another feature of both cities developed at a very high level. The major industries in Los Angeles are clean transportations and fuels, aerospace, medicine and biopharmaceuticals, education, entertainment, and tourism. In San Francisco, the largest industry is tourism, but fashion apparel, restaurants, healthcare, and education are also highly developed. Technology and financial services tale their decent place among major industries of the Bay Area as well.
Disadvantages
1. Traffic and public transport
It is difficult to find a person who will agree that traffic in LA is tolerable. Vice versa, it is almost impossible to arrive on time in rush hours. People have to commute for hours to reach their final destination. Moreover, an INRIX data study ranks Los Angeles traffic the worst among 38 countries on the globe. If you plan to live in this city, be ready to waste 100 hours of your yearly life in traffic jams. In addition, public transport does not reach all the suburbs of the city, so your driver's license can be in handy here.
2. Employment opportunities
Unlike Los Angeles, San Francisco offers more job opportunities for its residents. There is a rather low unemployment rate of about 2%. In Los Angeles, it is twice higher. Moreover, there is a tough competition for lucrative jobs as there are many educated specialists living there.
3. Neighborhoods are spread
Los Angeles is one of the most densely-populated cities in the country. Over 4 million people live in the area of 500 square miles. There are many neighborhoods and sometimes it is impossible to get from one neighborhood to another one. So if you have friends or relatives in Los Angeles and you want to live not far away, choose the same neighborhood.
4. Lack of parking places
Los Angeles can boast rather complicated traffic signs, so not all drivers can clearly understand if it is allowed to park a car. Moreover, the number of cars in the city is very big, and it is rather difficult to find a parking place there.
Ways to move from SF to LA
Los Angeles is a very popular destination among those who move from San Francisco and there are two ways to relocate from one place to another: moving yourself or ordering services of the moving company. It is natural that cheapest way to move is to pack your belongings in one big bag and buy a ticket on the bus or train, but not everyone agrees to leave all the valuables acquired during the life. If you need to take all your belongings with, probably, they will not fit your vehicle or you will have to pay thousands of dollars to move it by plane. The only right solution in this situation is to entrust a reliable moving company with this responsible task.
| | | |
| --- | --- | --- |
| Ways to move | Moving from SF to LA prices, $ | The carry-on and checked baggage free of fees |
| Airlines | $97-$200 | 1 free carry-on (in addition to a personal item) |
| Train | $30-$53 | 2 bags (50 lbs. each), 2 personal items ( 25 lbs. each), and 2 carry-on items |
| Moving company | $1000-$1700 | 1 bedroom apartment, all heavy items included |
California Movers has a dedicated team of well-trained movers to perform residential and business moving services at the highest level. We are a full-service company that also offers professionally equipped storage units to keep your stuff in safety. If you are planning a move, contact our managers and order a free quote right now. But if you want to get an answer to such important questions as how much does it cost to move heavy equipment or furniture or what is the cost of a truck rental, look through the table below. It will help you to count the cost of your moving to Los Angeles from San Francisco.