*Moving costs for 1bdrm apartment. Includes: Truck + gas, mileage, etc. 2 professional movers + tools. Blankets. Wardrobe Boxes. Assembly/Reassembly. Tax&Insurance.
| Route | Way to move | Average Moving Price, $ |
| --- | --- | --- |
| SF – LA | Airline flight | $145 |
| SF – LA | Train | $40 |
*The price doesn't include the expenses for moving personal items. This way of relocation is not an option for moving an apartment.
A large section of the San Francisco population has been moving out for some time now. In 2017, it emerged as the top US city that registered the highest "outflow" of residents according to Redfin report. More than 15 thousand residents moved to other places, which is 24% more than the next US city in the 'blacklist'. Relocation to other cities and states continued in 2018 In February, 49% of San Francisco residents were planning to move from the Bay Area according to a survey by Edelman firm. By October, the number of net outflow from San Francisco reached 28,000 as reported by Redfin reports. The trend continues. So this is clear that San Francisco is not one of the best places to live anymore.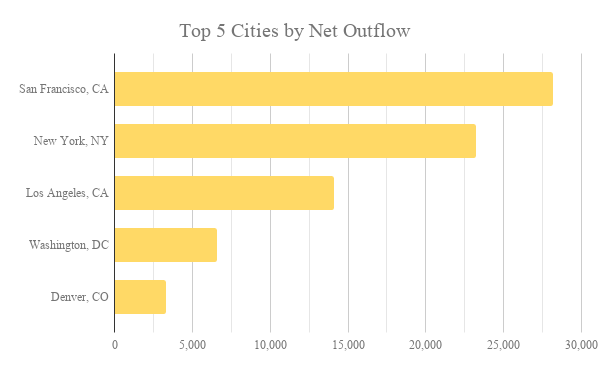 Another fact that proves a significant outflow from San Francisco is prices set by most of the moving companies. If you plan to move to Nevada from the Bay Area, be ready to pay twice more than if you move in the opposite direction.
What are the most popular destinations to relocate to? The biggest number of the residents of the Bay Area prefers to move to Sacramento, but the City of Angels takes the second place followed by Seattle, Portland, and San Diego.