Moving is always a relatively messy process with inconveniences that it brings. And one of them is utilities. You should think of them in advance or your mood will be spoilt as soon as you reach your new home. That is the reason to set up utility services prior to your relocation and be able to use them immediately after arrival.
To set up utilities in your new home, you should answer 4 questions:
What utility services must be set up?
Who is a provider of each of them?
When do you need to set up them?
How to apply for them?
Let's find out answers to each of these questions.
If to speak about types of utility services, there are obligatory and optional ones. It is natural that you can't live normally without electricity and water. However, many people use mobile phones and do not require setting up the Internet and cable phone, for example. That is why you need to make up a list of utilities required personally for you. The next step is to determine the providers of these services and the Internet can be a great assistant in this task. Experts advise connecting with the utility providers at least two weeks prior to your relocation. You can apply for most of the utility services online, but be ready to offer a good credit rating or pay a deposit to confirm your ability to cover the cost of the future bills.
8 most common utilities for setting up
If you have a difficulty in making up the list of utilities you will use in your new home, here are 8 most common ones to consider.
Water and wastewater. Every city government has a department responsible for water and wastewater services. You can get its contact information in the city council or search on the web. It is possible to transfer service to your name easily if you are a homeowner with a recorded deed for your home. It is enough to make an online application.
Gas. Gas services are usually provided by companies and you can set it up online or by phone if you wish.
Electricity. It is better to turn to the largest providers of electricity in the area if you need to set it up to your name. You can do that online, by phone or turning up in the company office on workdays.
Garbage. Depending on the state and city you live in, garbage collection can be a paid service or a responsibility of city government that is free of charge for residents. Learn how it is in your new area before looking for a service provider.
The Internet. Most often there are several providers of Internet services within one city. Analyze their offer and costs to find the most suitable variant personally for you. Then contact the provider to set up services.
Phone. If you need a cable telephone at home, you need to turn to the providers of this service in the area you live in. To avoid laying a new cable, learn who was a provider of telephone services in your new home before you arrived and turn to this company.
Parking permit. A parking permit is included in utility bills only in some cities and states. However, you need to purchase it if you want to have two-hour parking during the daytime on the streets of the city you live in.
Pest control. Pest control can be included in federal utility services in some states. However, if it is an obligatory part of your utility bill, be ready to find a provider of this service too.
Tips to reduce your utility bills
A necessity to pay utility bills on a regular basis and give a certain sum of money from your own pocket makes people look for ways to save on utility bills. In fact, there are several ways to do that.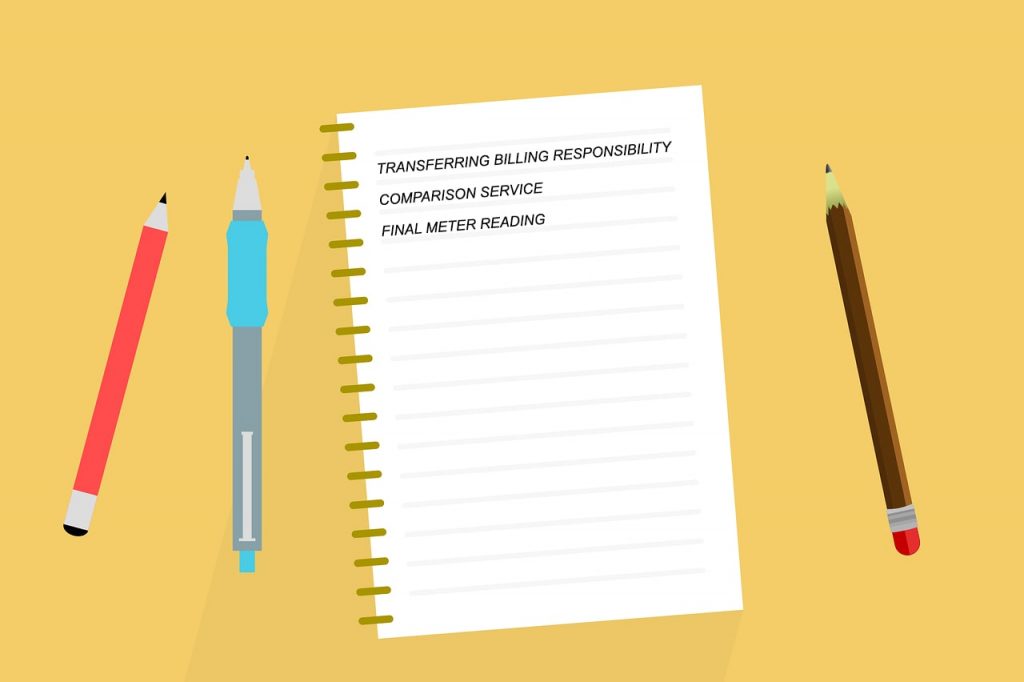 Transferring billing responsibility
No matter what utilities you need to set up, but there is always a possibility to transfer the existing accounts if you have moved to another home within one city. In other cases, you will have to create new accounts and it is a more time-consuming, costly, and painstaking task. A transfer is a guarantee that you will not have to pay for setting up services and making additional deposits.
Comparison service
There are utilities like the Internet and phone offered by different providers. If you analyze the offer of each of them, probably you will be able to choose the most profitable and at the same time savvy tariff.
Final meter reading
Ensure that the final figures on the meter when you arrive coincide with one's indicated in the bill you get. Otherwise you will have to pay for the utilities used by someone else before you moved in.
Are you looking for a moving expert in your area? California moving company is a trustworthy and leading full-service moving company in California working all over the West of US! Call us: (415) 579-2747.