The American population has a tendency to relocate to large metropolitan areas and moving to Seattle has been a popular solution for many years. It is the largest city in the north-west of the US with the 15th largest metropolitan area in the country. Living there offers many benefits according to the reviews of the citizens but there are also things you should know before moving to Seattle too.
Founded in 1870, it had originally only 1,150 people living there, but net and international migration, as well as natural increase, resulted in the fact that the current population estimate has exceeded 720,000 people. The city and its metro area are like a magnet that attracts Americans as well as foreigners dozens of whom arrive in the city on a daily basis.
Seattle metropolitan area is one of only 5 large metro areas that has gained more population for several last years than lost. In 2017, the city has received 64,000 new residents taking the 6th position among metro areas. What is interesting, 21,000 people are international migrants, 22,000 people are natural growth, and other 21,000 people are US residents looking for a better life.
However, there is some slow down because, during the period between 2010 and 2016, there were over 1,000 people arriving in Seattle each week, but now it is a bit more than 500. At the same time, it has not changed the situation with the population increase in King County, because it remains one of the fastest-growing in the nation.
If to analyze the growth of the city population, it has been steadily growing by more than 2% each year since 2011 and in 2016, the increase was 3.18% (21,808 new residents) – the highest for this period.

Where do new Seattle residents come from? It is not difficult to suppose that the biggest number of people who relocate to Seattle are Washingtonians – about 8% from the total number, though Californians keep up with the locals and constitute 7.71% of the newcomers. Other states sending residents to Seattle are Oregon, Texas, Arizona, and New York. If to analyze new arrivals who left other metro areas in exchange for Seattle, most of them left Portland, Los Angeles, San Francisco, Bremerton, and Olympia. Two last areas are also leading among Washington residents who moved to Seattle and followed by Spokane, Bellingham, and Mount Vernon. 20.2% of new Seattle citizens have come from outside the US and they are predominantly Asian.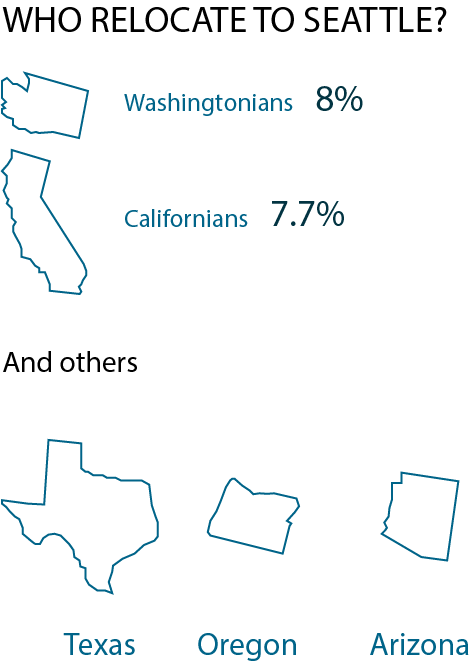 What makes so many people move to the largest city of Washington? In fact, there are many pros of living there but not everything is perfect too.
Why should you move to Seattle?
You can often see people asking why move to Seattle, WA. The reason for that is an incessant flow of migrants moving there every day. Naturally, living in the city has its benefits and their number is rather big.
1. Cost of living
Though it may seem that the cost of living in Seattle must be very high, in reality, things are different. Of course, if to analyze this index without the prices for housing, it could be possible to say that Seattle is a rather cheap city. Groceries cost almost the same as all around the US, while health care and utilities are even cheaper by 20% and 30% respectively. However, you will have to spend half more on transportation, so get a bike to save.
2. Median household income
The booming economy makes Seattle a place where you can earn more than an average American. The minimum salary here is $15, while a median household income is $83,476. Moreover, it is constantly growing and it allows local residents to afford more than other Americans can do.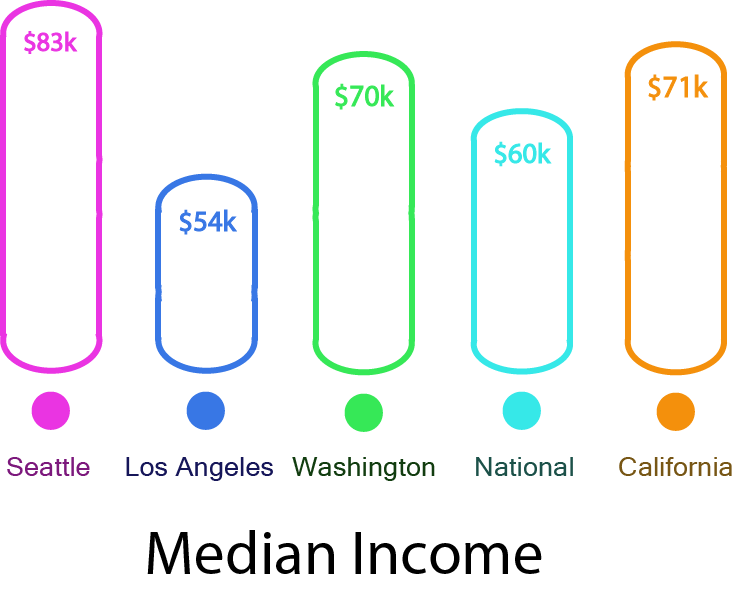 3. Employment
The main boost for people thinking about moving to Seattle is, of course, employment. It is the place where you can work in globally renowned companies, as the city has acquired over 220,000 private-sector jobs for a decade. The unemployment rate is rather low – about 3.1%, while the number of jobs is constantly growing. The biggest number of people is employed in technical, business and scientific services as well as retail trade. However, manufacturing, healthcare, education, food services are also very popular.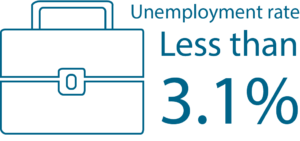 4. Outdoor recreation
When it comes to recreation in the big city, Seattle has much to offer. Its location opens a variety of opportunities to access mountains, ocean, visit a desert or volcano, different islands, and even a rainforest. It means that you can go hiking, climbing, camping, skiing, kite surfing, backpacking, fishing, but the most favorite activity of Seattle residents is cycling. There is a special Burke-Gilman Trail that is 27 miles long to enjoy this activity.
5. Dog-friendly city
If you ask any guide of what is special about Seattle, the answer will be "dogs". It is the only city in America where dogs outnumber children living there. Moreover, the city has all the necessary facilities for these furry friends, because it is allowed to walk dogs and puppies not only in every park but also take them with when you go for work, to the shop or restaurant, for example. There is even a special Dogwood Play Park founded especially for these 4-paw creatures with a real bar and playgrounds only for dogs.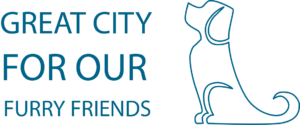 6. Entertainment
Being a popular tourist destination Seattle offers a variety of opportunities to have fun in the city. You can stroll the city center for hours admiring a variety of interesting sights, tasting local dishes and beverages, but it is not the only thing to do there. The unique atmosphere of the city can be felt if you visit local tourist attractions such as Aquarium, Great Wheel, the Needle, Zoo, go to the underground tours, see a Gum Wall, visit local museums and always have places to have fun at.
7. Beautiful nature
Despite the fact that it is an urban area, the city has not only a beautiful cityscape but also a breathtaking nature inside the city and outside it. It is enough to remember a Discovery Park with its patch of wilderness taking 534 acres and located along the shores of the Puget Sound. But most of the newcomers are mesmerized by a beautiful Mount Rainier that is over 14,000 feet high. However, it is important not to frog about an eye-catching view of the city coastline as well as empty desserts that attract with their solitude as well.

8. A destination for young people
Moving to Seattle, Washington you will immediately spot that most of the local residents are young people. The city attracts youth from different corners of the country who are flocking there to study or work. Despite the fact that the median age of Seattle residents is 35 years, 38.6% of the total population are people aged between 25 and 44 and 11.8% are youth between 18 and 24. It is enough to go out in the street and you will get the impression that the city is populated only by young and active people.
9. No personal income tax
Though the sales tax is a bit higher in the city than in the state, the good news is the fact that you should not lose any dollar from your income. The personal income tax in Seattle is zero.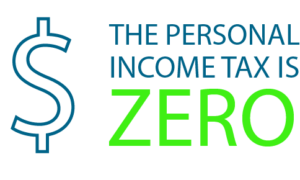 10. Spectacular and exciting sports
People who love sports will feel happy in Seattle since the city offers not only a variety of opportunities to go in for sports but also be a spectator and follow the success of your favorite team. The reason for that is a presence of several professional sports teams including the Seattle Seahawks (football), Seattle Mariners (baseball), Thunderbirds (hockey), Seattle Sounders (soccer) and Seattle Storm (women's basketball). There are several professional fields and facilities such as Cheney Stadium, Seattle Center Arena, CenturyLink Field to follow live sports events as well as train yourself. College sports are highly developed as well.
11. Restaurants
Seattle offers all the variety of gastronomic delicacies in spite of the type of cuisine you like. Here you can find luxurious restaurants offering not only local food but also preparing Italian, Thai, Indian, Mexican, Japanese, Chinese and many other national dishes.
12. Coffee and beer
Another exclusive feature of Seattle is coffee mania. Being a place where a famous Starbucks was founded, today the city can boast a variety of small coffee shops and cafes serving this drink. In fact, the city has over 15 cafes per 10,000 residents and every person spends about $36 on coffee each month. There are also unique "bikini baristas" serving coffee with a peek-a-boo view and it can be found only in Seattle.
Not only coffee is a popular drink in the city. Modern Seattle is home to many small breweries including such prominent names as Elysian, Stoup, and Fremont Brewing Company. Moreover, the city hosts an annual Seattle International Beerfest where all the local breweries and guests of the city can taste the best examples of this beverage.
13. Healthy lifestyle
Many residents of Seattle prefer a healthy way of life. Of course, fresh coastal air and the absence of extreme temperatures create a perfect environment for going in for sports. Moreover, the citizens have access to fresh local food sold at the farmers markets and consume not only tasty but also beneficial foods. In addition, 85% of Seattle residents are non-smokers. They prefer cycling to car driving or using public transport as well as spend much time on outdoor activities taking care of their health.
14. Tasty fresh local foods
If you think that it is impossible to eat healthily living in a big city, you are mistaken. Seattle can boast not only delicious fast food at Dick's Drive-In but also fresh and beneficial seafood including oysters, salmon, and mackerel. In addition, it is impossible to pass by the iconic Pike Place Market (old traditional farmers market founded in 1907) and avoid buying fresh groceries and fruit.
15. Environmentally conscious
Seattle is a green city that takes care of the environment. People have already got used to reusable bags and organic food, while the biggest part of the energy is received due to renewable technologies taking advantage of the wind, solar energy, and water.
16. Vibrant music scene
The city has played a significant role in the musical culture of the state for many years. It has provided us with several world-renowned bands and now it is home to popular labels and bands as well. You can listen to the music of different genres here including rock and hip-hop, but you should not forget about the classic music sounding in the longest-performing fit centers such as the Seattle Symphony, the Pacific Northwest Ballet and Seattle Opera.
17. Thriving arts and culture scene
It is impossible not to remember a highly developed artistic and cultural life of the city. There are regular theatre productions taking place every weekend as well as such exclusive destinations as dinner theatres (Teatro ZinZanni, The Triple Door, etc.). The city is proud of its museums, while an annual Art Walk at Pioneer Square is a unique event happening only in Seattle. You can visit new exhibitions each first Thursday of the month and see the finest examples of ceramics, jewelry, prints, and more.
18. Comfortable temperature all year round
It is difficult to call the local climate excellent because of frequent rains, but you can feel comfortable in the city in any season. The temperature rarely goes to its extremes, while the annual average temperature is 58.8°. There are cool summers without heat and rather warm winters with 45.1° average low temperature.
19. Education opportunities
One of the most important reasons to move to Seattle for families with kids can be high-quality education provided here. There are many public and private schools to get excellent secondary education as well as several universities and colleges to receive a desirable degree. All the local schools can boast a high graduation rate, while 56.6% of Seattleites hold a bachelor degree or higher too.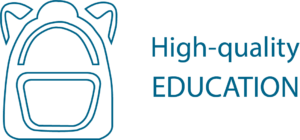 20. Waterfront living
What does it mean to live in a waterfront city with a huge port? In addition to beautiful marine scenery, fresh seafood, a variety of boats and ferries, you get a possibility to breathe fresh air, get all the foods and goods ones of the first, go on cruises, and feel confident that your home city has a strong economy.
21. Excellent transportation system
When it comes to public transport, local commuters and city residents can use an extensive range of buses, rail lines, and ferries. The city also has an international airport to get to many destinations of the planet easily and quickly.
Why not to move?
Relocation to Seattle has not only positive sides, there is a fly in the ointment too. Looking through this guide you will understand what is wrong with living in this metropolis.
1. Home prices
Housing is very expensive in Seattle. The median home price is $761,800 that is 4 times higher than the national average. The cost of the square meter ranges between $4,500 and $7,000.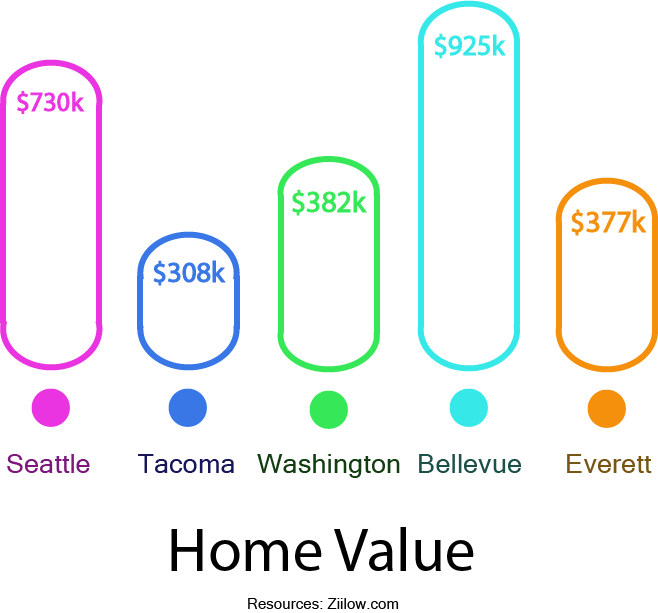 2. Rent
It is not cheap to rent housing in Seattle as well. The price of living will be rather high if you need to rent an apartment. The average rent of a 1-bedroom flat in the city is $1,728 and in the metro – $1,526. It is almost twice higher than national average rent prices.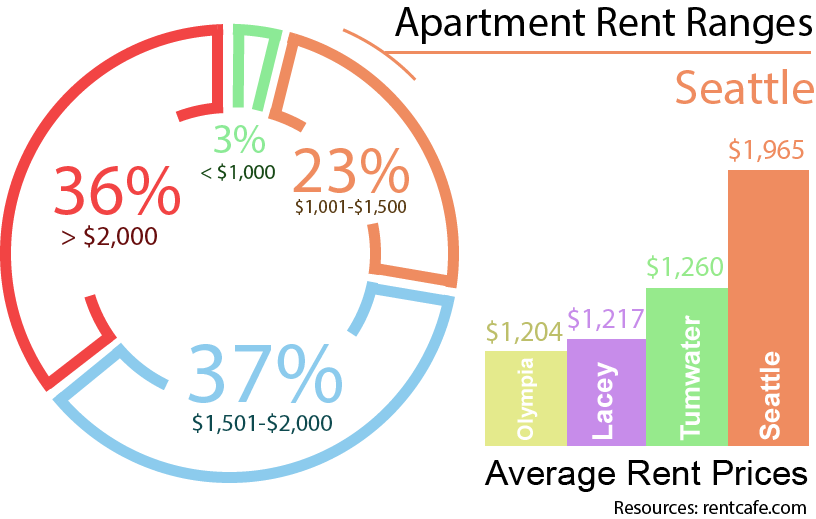 3. Legalized marijuana
Potting is widely spread in the city as it is legal to smoke marijuana in Seattle. Cannabis is sold in special stores and can be purchased by people over 21. Though it is forbidden to smoke in public, you will probably see some potters in the city.
4. Rainy gloomy weather and freezing winters
Seattle is known as The Emerald City, but its green color is often associated with numerous trees growing there. The reason for such green lush is a steady supply of rain falling from the sky. In general, there are 152 days of rain per year. Winters in Seattle are extremely freezing because of the cold wind blowing from the Pacific coast, so cover your face and fingers properly.
5. Traffic
The increase in population led to much heavier traffic in the city. Be ready to spend from 30 to 60 minutes or more on your way if you choose rush hours.

6. Growing population
The city has gained over 100,000 new residents for 15 years and it is estimated that in several years its population will exceed 1 million people. There are crowds everywhere no matter where you go to. Are you ready to be an ant in the huge ant house?
7. More men than women
It may be a problem for men to find their second half in Seattle because there Sr 30% more single men than women. Though ladies are lucky to have more guys to date.
8. Hilly topography
Moving around the city downtown, let alone other neighborhoods, be ready to sweat. The city features multiple steep hills, so you should get used to regular loading moving up and down.
9. Seismic activity
Moving to Washington can be terrifying since it features a great seismic activity. The territory around Seattle is also referred to being an earthquake country where several fault lines run under or not far from the city. Moreover, there are many active volcanoes that can erupt any minute too.
10. Crime rate
Unfortunately, the crime rate in the city is rather high. A high percentage of poverty (over 11%) and homeless people influence it greatly. The crime rate in the city is 115% higher than the national one with 633 violent crimes and 5,259 property crimes that happened last year.
Moving to Seattle alone
It does not matter whether you are moving to Seattle after college or to study, but if you do that alone, you will probably need a simple guide that will help you to make relocation smooth and stress-free. Here are several tips for people moving to Seattle alone:
Avoid living in downtown. It is not residential and really expensive;
Share an apartment. It will help to save your budget;
Get a bike. No traffic jams and extra expenses for transportation;
Consider the time and comfort of a commute if you choose living outside the city;
Save some money for relocation to be able to earn your living until you find a job and get a salary;
Get acquainted with Seattle residents not to feel lonely in the new city.
Tips for moving to Seattle
When it comes to living in Seattle, pros and cons must be considered in advance. You will not have time to analyze them when you need to plan your relocation. However, it is important to find a couple of minutes to learn tips for moving to Seattle to prevent any troubles and challenges. These are the most important ones:
Connect your utilities before arrival or you will have to live in the new home without water, light, and heating;
Move in spring or fall. Summer is a tourist season, while winters are rather harsh there;
License your dog. The local law requires licenses for all the dogs living in the city;
Register your car and change a driving license. It must be done within 30 days after relocation;
Register to vote;
Check the event calendar to avoid traffic jams.
Best neighborhoods
Whether you are moving from California to Seattle or any other state or city, you should be very careful with the choice of the neighborhood for a living. There are urban areas not suitable for family living as well as distant neighborhoods that will take a great amount of your time for commuting. Some of them are safer, while others are more affordable or vice versa, much more expensive. We have prepared a top 5 of the best Seattle neighborhoods for living to make your choice easier.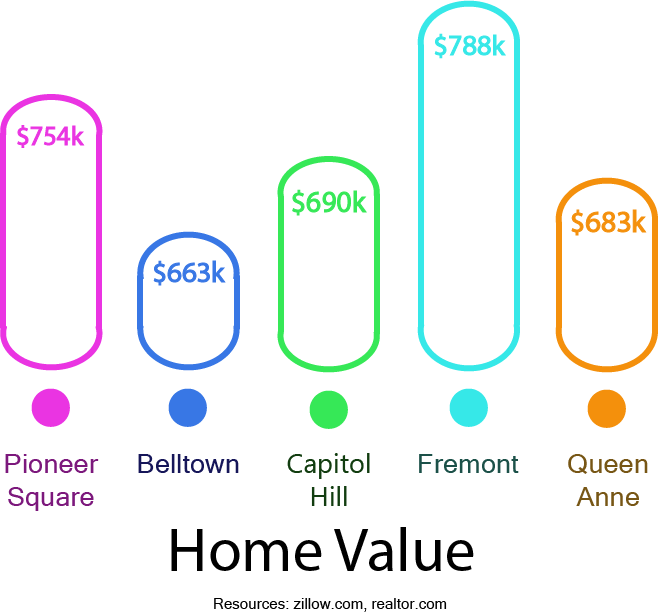 Belltown


Being the most densely populated waterfront neighborhood located not far from the downtown it is chosen by many couples and singles for a living. There are many activities to do as well as Pike Place Market to always buy fresh products. You can choose a place to rest from a variety of restaurants, cafes, nightclubs available there. The neighborhood is not cheap but comfortable to live.

Capitol Hill


If you need a more affordable district for living, this one is chosen by many young professionals not occasionally. It is a green neighborhood with parks, trails, beautiful view of the city as well as a large gay community.

Fremont


This neighborhood used to be a separate city, but now it is a part of Seattle. Called the Center of Universe, Fremont has many residential blocks of flats in the north and is often used by renters. It is connected with the downtown with a bus, while you can find a good job in this area as well: there are many companies and offices located there.

Pioneer Square


If you want to live in the neighborhood with a unique soul, this one features a long and rich history as well as a unique culture. It used to be the heart of the city, but now it is a peaceful and spectacular area that will not leave anyone indifferent.

Queen Anne


Located to the north of the downtown this neighborhood has been called in this way thanks to multiple homes designed in this style. It is a silent residential area with a common business district. There are many things to do there, but homes are rather expensive there.
How to move
You will have no troubles planning your move to Seattle as it is a very popular destination. It is possible to get to the city using any means of transportation you prefer. If you live in Washington State or neighboring states, probably, it will be more comfortable to catch a bus, train or travel in your own vehicle. If the distance is bigger, a plane will be a perfect alternative. All these ways of moving to Seattle are suitable if you are not going to take all your belongings with.
However, if you take all your valuables with, there is no better way to deliver your stuff to a new place of living than companies moving to Seattle. Choose affordable long-distance movers to get to Seattle and your relocation to the city will be hassle-free and well-organized.