The state of New Mexico (NM) is located in the Western region, Mountain division, of the United States. With an area of 314,926 square kilometers, it ranks fifth in the country's ranking.
It is known as the "Land of enchantment or spell" ("Land of Enchantment") for its natural beauty and for the purpose of promoting tourism.
Its capital city is Santa Fe, and its main cities are Albuquerque, Las Cruces, Rio Rancho, Roswell, Farmington, Clovis, Alamogordo, Hobbs and Carlsbad.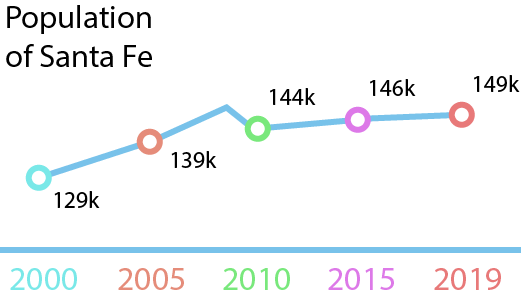 It has 2 million and 88 thousand inhabitants, 46.7% of which are of Hispanic or Latino origin, being the most populous ethnic group in the state, even over non-Hispanic whites. The only other state in the US that registers the same demographic phenomenon of a Hispanic majority is California.
It also has a high percentage of native Indian population that lives in reserves, mainly represented by the tribes of the Navajos, and the Apaches.
Due to the fact New Mexico state borders Mexico, there is a predominant use of the Spanish language.
Is Santa Fe a Good Place to live?
Let's consider the pros of moving to Santa Fe.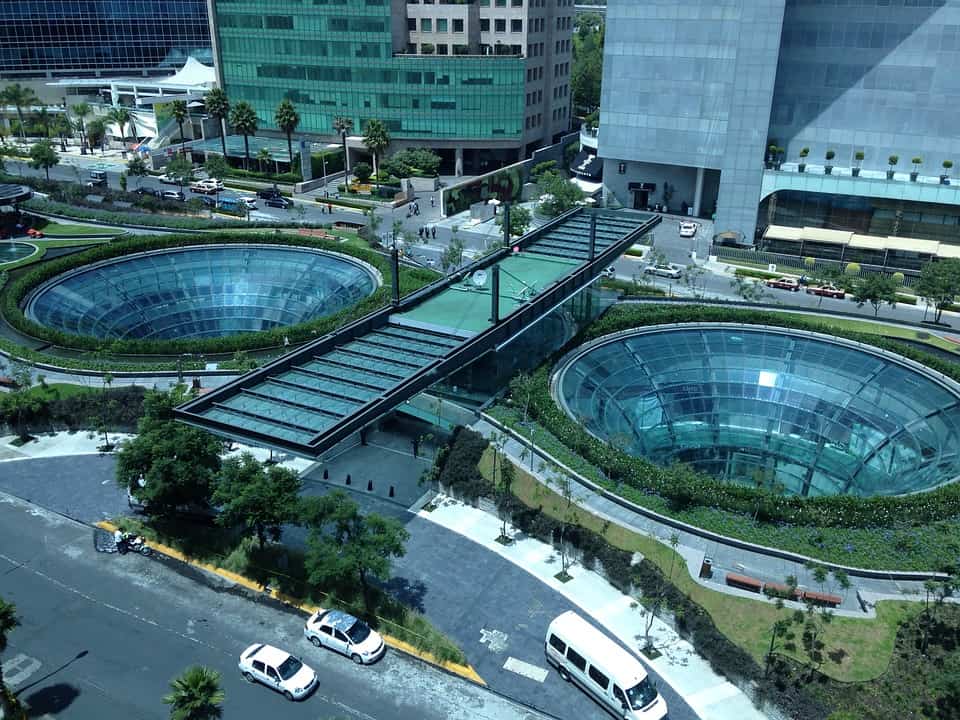 1. Mostly sunny and dry weather
The climate, predominantly dry, shows variations of cold or heat depending on the height and season. Thus, the higher regions tend to be colder throughout the year, and it is cold in winter, spring and autumn. Each part of New Mexico receives at least 70% sunshine throughout the year. Being such a large state, its climatic conditions and precipitations – rain or snow – change considerably from one place to another. Storms usually appear in July and August.
2. Manufacturing own products
Its agricultural-livestock sector is dedicated to the cultivation of hay, chilies, nuts, cotton and onions; to livestock, raising pigs, sheep and dairy products; while the industry covers the areas of oil, coal, electronic equipment, food processing, printing, clothing, stone products, glass and clay. Tourism, likewise, generates important currency.
3. Sights & Culture
Monuments, museums and historical sites are its main tourist attractions, as well as the ancient churches and the ruins of missions. It houses the oldest of the public buildings of the United States: the Palace of the Governors.
4. Santa Fe Festival & Art
Santa Fe is widely-known as the city with a fantastic art scene. One of the most famous Santa Fe annual events is the contemporary art show that held each Autumn since 2000. Celebrated artists from around the world, as well as the local creative community, will be displaying amazing art within four days. The festival's program includes traditional exhibits, music live shows, parades and more.
5. New Mexican food
Basically, everyone who has ever lived in New Mexico for a while will tell you that one of the reasons to move to this place is its delicious, unbelievably great cuisine. All year long you can buy fresh vegetables at various farmer's markets in the city, not to mention fascinating restaurants and cafes. Santa Fe Farmer's Market recently named as one of the best in the whole country. The most essential ingredient and the core of the local cuisine is green chili.
6. Landscape & Outdoor activities
A wide range of parks and recreation facilities perfectly matches the way people in Santa Fe like to spend their free-time. Besides that, the presence of Santa Fe National Forest – the place to feast your eyes on – gives people who like outdoorsy activities amazing opportunity to explore local landscape. There is always a possibility to stumble into a special site in the forest.
7. Opera
As was mentioned before, Santa Fe has a great local art community that makes an impact on the whole city's life. Well, we weren't speaking only about visual art. Music is no less important for the city, especially something so unusual in the modern world as opera. You will be surprised to learn that Santa Fe is a host for another great event – Santa Fe Opera. Even if you have never listened to opera, the way this music genre displays in Santa Fe will amaze you.
8. Lack of traffic
The great advantage of living in Santa Fe is its light traffic. You don't have to face a bustle on the road and you don't have to lose your time waiting.
Reasons not to move to Santa Fe
We have learned some positive facts about the city, but it is not enough to answer the question "Is Santa Fe a Good Place to live"? Whenever it comes to choosing a new place of residence, you should carefully scrutinize all the factors – good and bad sides as well. Let's take a survey on the disadvantages of moving to Santa Fe.
1. Bureaucracy
Santa Fe has many big issues with its government. People are not satisfied with many decisions made by local political leaders. The biggest problem is the bureaucracy. It shows itself on different levels and situations even though the fact often emphasized in the papers.
2. You're going to need some sun protection
More than 300 days per year people experience constant sunny weather. Sometimes it is warm and gentle, the other times – it's just burning. For most of the year the second option is predominant over the first one. So, you have to remember about sunscreen in order to protect yourself from sun burning.
3. The cost of living
If you consider the number of job possibilities and the salary you are going to have you will experience something like disappointment. Generally, the payment is not even comparable to the cost of living, unless you're working in a very good industry – like web development or the other high technology job. The lack of high-paying job positions is a big disadvantage of Santa Fe.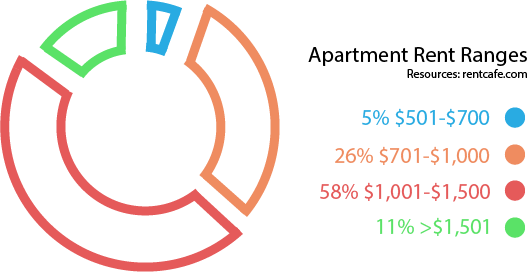 4. Hello, dust!
If you are planning on relocating to Santa Fe, get yourself prepared to a dust problem. It is a common thing for New Mexicans – now and then they have to deal with dust due to proximity to the desert. Windy weather pretty often brings with it plenty of dust.
5. Insects
No wonder such a nature around the city is not just a wonderful landscape but also a home for hundreds of insects. Some of them could be dangerous and bring you a state of high fever. The presence of these insects creates a problem with outdoor activities in some areas in the evening time.
6. The lack of nightlife
The nightlife in Santa Fe presented mostly by drinking places. You won't find places to dance or to listen to music to in the night. For some of the newcomers, it is a problem – without vivid nightlife, any city loses part of the charm.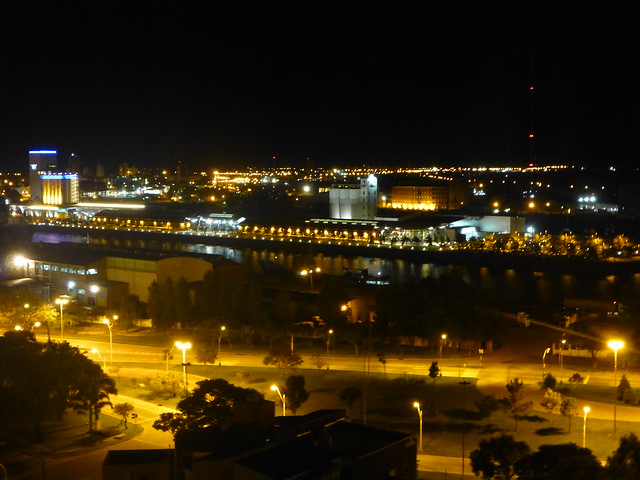 7. Crime and drugs
One of the reasons not to move to the city and the murky part of Santa Fe reality is its high level of crimes and drug use. According to the crime report the city of Santa Fe is safer than only 9% of U.S. Cities. Property crimes are on top of the list. The level of crime is ranked on the scale of one hundred points. Santa Fe property crime is 65, which is very high. Santa Fe and New Mexico, in general, has a high level of mortality caused by drug overdose and alcohol use – the second in the United States.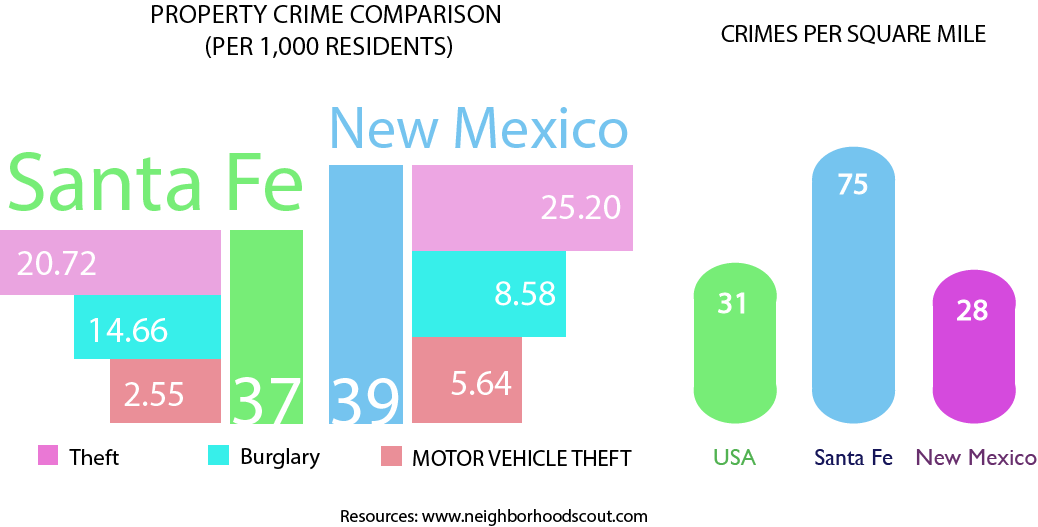 8. Older population
If you one of those people who like a slow way of living, you will be satisfied with the place. The general social dynamic in Santa Fe is not quick and vibrant due to the demographic situation – most of the residents are older people. It affects the city's life to its core. Practically, it means you can't find plenty of nighttime facilities and entertainments people used to in huge cities. The atmosphere in the city rather relaxed and tranquil.
9. Tax reform
If you are moving to Santa Fe, New Mexico, you will face the whole pack of taxes – gross receipts taxes, income taxes and property taxes. Each of these has a rather alarming description. For example, in the case of income taxes, the bracket includes people who make more than 16 000 dollars per year. For both high and low-income residents, each of these taxes' laws wasn't good news.
Things to do and places to go in Santa Fe for families
The city of Santa Fe is a place that combines many virtues together. Rich heritage, fantastic landscapes, proximity to the desert and closeness to wildlife, great art and culture. There are many things to explore for people of all ages. Let's take a closer look at some family things to do if you live in Santa Fe.
Visit El Rancho de las Golondrinas.

To learn how the place looked like 200 hundred years ago, take your children to The Museum located south of Santa Fe. Enjoy old colonial architecture, reconstructed buildings and traditions of the local past.

Meow Wolf Art Complex

– the place every child must visit. Truly imaginative, adventured and simply fascinating place to spend time in and live out the story you read, seen or heard about. We guarantee, that parents won't be disappointed – it is a perfect attraction for the whole family.

Georgia O'Keeffe Museum

– another facility for people of all ages. Children can be involved here in the art making process – more or less different depending on age. Basically, if you want your child to learn something about modern art, you can't find anything more interesting and engaging in Santa Fe than this Museum.

The Railyard District

– The Railyard, once an important part of transportation in the whole New Mexico area, now a great place for families and vacation. Practically, it is a park with art and shopping facilities, picnic areas, cinema and children's play zone.

Museum of International Folk Art

– you will be glad to know that in Santa Fe you can see one of the largest exhibits of Folk Art in the world. Since many and many toys designed for children simply the miniatures from the past, like tools or weaponry, it would be great to see it as it was. Besides that, imagine how exciting it could be for a child to see an altar or a skeleton?
By visiting these places, you will create a clear sense of what is it like to live in Santa Fe, because each of them displaying some part of local history, society and the present.

Best places to live in Santa Fe
Like any other cities, Santa Fe has its well-looking, comfort neighborhoods and those which you don't want to settle in. We have listed some of the best places to live in each with great advantages for families and working people. So, if you asking yourself where to live in Santa Fe with a comfort, high standards and safety, you will have the answer immediately.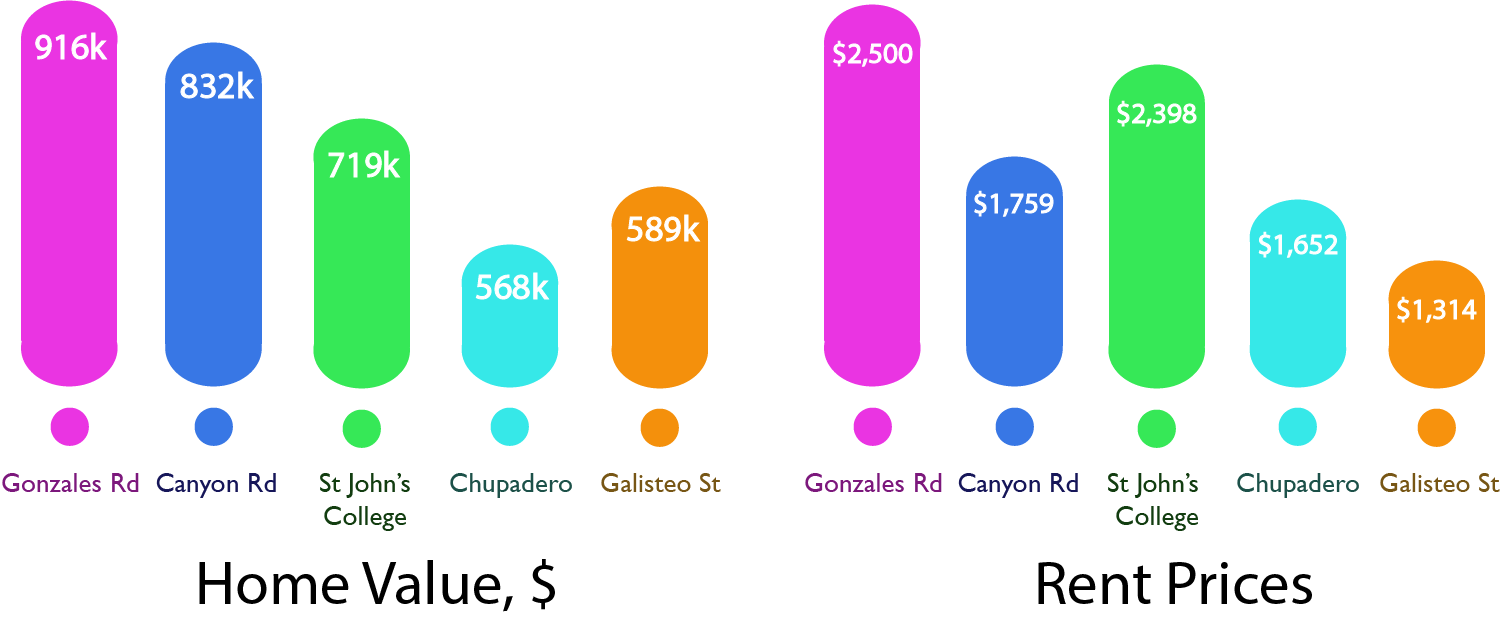 Gonzales Rd / Hyde Park Rd


A place with many walking areas, which affects the transportation system in this particular neighborhood – many residents simply choose to walk their way to work. The others usually take a bus or a car. Most of the people who settled here are well educated with an advanced degree. Except for English, you are most likely can hear Spanish or German languages. The median real estate price is $916,333, if you'd like to rent an apartment it would cost you about $2,500. There are many dining options, beautiful modern buildings and education facilities for children – more than 60 schools.

Canyon Rd / E Palace Ave


Residents here choose to work from home. So, if you too to have an online job you would find the local soothing atmosphere very appropriate. Also, this neighborhood is good for bike use as a way of transportation to the city. Among languages spoken here are English, Spanish and Polish. The median real estate price is $832,212, for rent it is – $1,759.

St John's College / Old Santa Fe Trl


More than 70% of working occupations among residents here is executive and management positions. The place has a rather calm, family aura with great restaurants, shops and many historic buildings. This area is one of the wealthiest neighborhoods in Santa Fe. The real estate prices a little bit lower in St John's College than in previous ones – the median price is $719,082, rental price – $2,398.

Chupadero


The place where you can easily find a single-family home. The level of safety is one of the highest in Santa Fe. The neighborhood is very good for retirees and older couples. The one thing that might be worthy to note about the place – the community consists of highly educated residents. If you want to settle in the area with such people, this one could be the best option. In comparison to other decent neighborhoods this one is quite cheap. The median real estate price is $568,945, the price for rent is $1,652.

Galisteo St / Camino De Los Marquez


Another neighborhood with excellent living conditions and safety. The median real estate price is $589,456, the rental price is $1,314. Rather a historic place – its roots took place at 1930th. Many houses have been built in that time. This fact gives the place a charming, old-fashioned look and atmosphere.
If you are planning a move to Santa Fe, New Mexico our strong and licensed long-distance movers are ready to help you to make the relocation process as smooth as possible.