Located at the Pacific Coast, San Diego is the 8th largest city in the United States. It has a great climate, excellent employment opportunities, endless entertainment and recreational activities, so moving to San Diego is a daydream of many people. Its population will soon reach 1.5 million people, but the city continues to grow and the migration statistics confirms this fact. It is one of the things to know before moving to San Diego.
According to the World Population Review, the annual increase in population in 2017 was a bit less than 1%, but there has not been any negative data since 1860. It means that each year, the city continues to expand and it was estimated that by 2050 there will be 1.9 million people living there.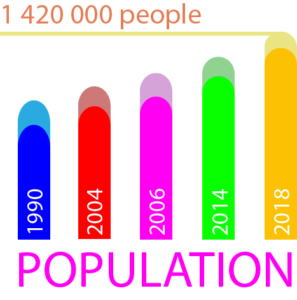 Who arrives in San Diego most often? Unfortunately, these are predominantly foreign immigrants. Located close to Mexico border, there is a constant flow of people who desire to move out from the Latino state and settle in the US. For example, in 2012, out of 28,200 residents who moved to San Diego, 16,000 people were foreigners.
However, being also a scientific, economic, and cultural center as well as a home to the United States Navy base, many Americans move to San Diego to study and work here.
Why move to San Diego?
It is natural that living at the coast of the Pacific Ocean in a highly-developed society with all the benefits of urban life can be already a reason to move to San Diego. However, let's consider these and several other advantages of this city in details.
1. Location
A favorable location of the city makes it easy to get to any point of California. Moreover, it has spread on the coast and not far from the border with Mexico.
2. Climate
San Diego area features one of the best climates in the US. It is Mediterranean one, so summers are warm and dry, while winters are mild and with low precipitation. However, the city has several microclimates because of the various topography as well.
3. Entertainment and recreation
You will never get bored in San Diego. It has beautiful Balboa Park in the downtown where the San Diego Zoo is located. There are several military museums one of which is a floating aircraft carrier, while you can also visit many other museums devoted to history, arts, man, photography etc.

In addition, there are numerous outdoor activities to go in for too. In summer, you can take up water sports, go hiking in the mountains as well as cycle, climb, walk there. Many people arrive in the city for beer tours and see the migration of whales taking place in the bay. Fishing is also incredibly popular here.
4. Nature and beaches
Despite the fact that this is an urban area, there is a diversity of splendid nature. You can admire the beauty of mountains with their lovely paths and valleys as well as enjoy spectacular sunsets on the top-notch beaches. They are soft and sandy and attract hundreds of people in warm seasons.
5. Education
The city can boast the 2nd largest school district in California, so parents will easily choose a good school for their children. When it comes to higher education, San Diego is one of the most educated cities in the country as there are several big universities and colleges functioning there. The inflow of young people who want to study there makes an impression that youth dominates in the city, while the number of holders of Bachelor degree is rather high too.
6. Employment
San Diego can be proud of a rather low unemployment rate that is below 3%. Moreover, it has many highly developed industries offering vacancies for specialists. The biggest number of employees work in professional, technical, and scientific services. However, defense and military, as well as tourism, take a big number of jobs too. The biggest employers are the US Navy, the University of California, and healthcare companies.
7. Food and beer
Local food has been greatly influenced by Mexican cuisine, but you can taste a variety of different dishes here. For example, local cooks decided to add an American note to popular tacos and serve them with french fries. There are two big seafood companies located in the city too.
However, the main pride of the city is a title of "America's Craft Beer Capital" and such popular breweries as Stone Brewing Company. Tourists even come to this city for special beer tours, because here you can taste the most delicious beer in the US.
8. Restaurants and farm markets
The city is home to many world-renowned restaurants, so you can diversify your nutrition easily choosing a new destination every evening. However, if you prefer to cook at home, there are great farm markets that offer fresh and mouth-watering goods to the local population for reasonable money.
9. Vibrant nightlife
Even at night, you can let your hair down in San Diego thanks to multiple pubs, bars, and clubs inviting customers for a cocktail and endless dancing. Here are several luxurious clubs located in the downtown as well as exciting beach parties visited by young people.
10. Crime rate
Despite the fact that the city is highly populated and has a large Hispanic and Latino community, the crime rate here is not high. San Diego remains one of the safest cities to live in the US, especially among big cities of the country.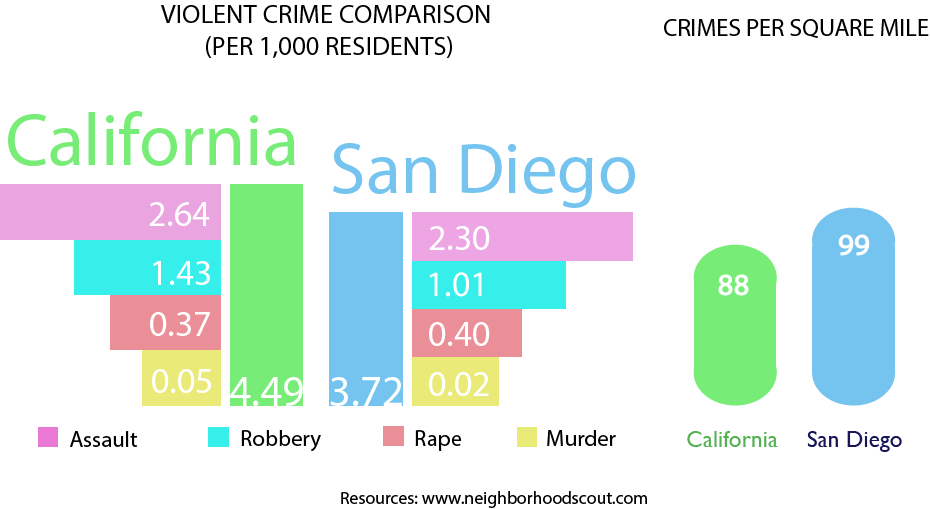 11. Economic growth
In 2018, San Diego was number one metro area in US personal income growth. It has increased by 5.4% and constituted $76,207.
Reasons not to move to San Diego
If you ask for advice about moving to San Diego, probably, you will get a positive answer as the city is really gorgeous. However, there are several points to consider before you start packing your things. They may have a huge impact on your final decision.
1. Cost of living
Like all other big cities of California, the cost of living in San Diego is higher than the national average one. It is natural that the main factor to influence the cost of living index is housing, but still, you should understand that even with the median family income of over $70,000, you will have to save much to have a roof over your head. When it comes to other factors, in comparison with the national average data, transportation is 34% more expensive here, while groceries and utilities are 3-4% higher each. Healthcare is even cheaper by 12%.
In addition, the cost of living is increasing each year and it is in the top 10 of the most expensive metro areas in the US.
2. Home prices
The biggest challenge for newcomers as well as people who have already lived in San Diego for years is to afford a home or at least a small apartment. The local housing market is the 8th most expensive one in the country, so it is not surprising that you need to gather about $622,700 – the median home price in San Diego – to own your property.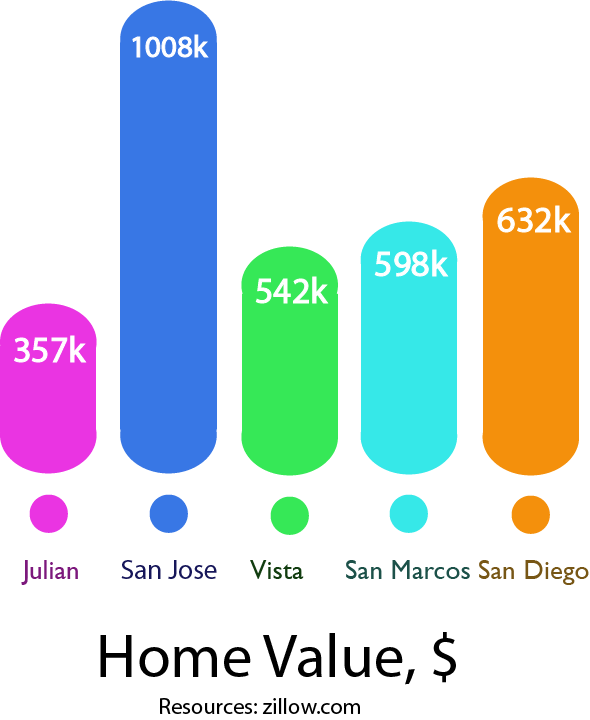 3. Rent
It is not easy to rent dwelling here because of high prices as well. San Diego is also in the top 10 of the cities with the highest rent payments. Even a small room will cost you over $300, while a 2-bedroom apartment will take over $2,200 from the family budget each month.

4. Heavy traffic
Both highways and city roads are incredibly crowded in rush hours. It can be a trial to commute to San Diego on a daily basis as well as driving to another neighborhood for work. In summer, things get much worse because of the big number of tourists coming to the city. Local infrastructure is not ready for such a load.
5. High poverty rate among young people
About 13.1% of the local population in San Diego live below the poverty line. However, despite the fact that this number is a bit smaller than the national average one, the most astonishing fact, in this case, is that the biggest number of poor people are youth aged between 18 and 24 – over 12% from the total number.
Moving to San Diego alone
Relocating to San Diego it is very important to consider all the details, especially if you move alone. Arrival in the big city can be a real challenge if you have not prepared for that. That is why you need to plan your moving to San Diego thoroughly and consider the following pieces of advice.
Find a friend who can help you with renting a dwelling for a start.
Take a map and know exactly where you are going.
During the first weeks of your life, visit different stores, cafes, shops to find the best ones.
Make new friends: there are many places such as parks, beaches, cafes suitable for that in San Diego.
Prefer the following neighborhoods packed with youth: La Jolla, Pacific Beach, Downtown.
Moving to San Diego with kids
San Diego is a perfect place for raising kids not only due to a warm climate, a variety of activities for children, places to visit but also the quality of education and safety. It will not be difficult for parents to find a good school for a kid as well as choose a higher educational institution for getting a degree. San Diego Unified School District is ranked high both by parents and according to the results of the tests, while local kindergartens have many positive reviews as well. It means that there is no sense in doubting about relocation to San Diego.
If you want your child to get an abundance of new impressions, San Diego will provide you with such an opportunity. In addition to many museums devoted to the marine theme, discoveries, arts, it is possible to visit different theme parks including Sea World, Legoland, and the Zoo, and Wild Animal Park. There is a variety of recreational outdoor activities too.
Where to live
It is natural that people who want to move to San Diego do that because of different reasons. However, if to evaluate all the neighborhoods according to several basic factors, the leaders of this rating are the following examples.
Hillcrest


Located not far from downtown, it is a pedestrian-friendly neighborhood with a vibrant nightlife scene. There are many shops, cafes, and restaurants to visit as well.

Little Italy


The name of this neighborhood speaks for itself. It is a peaceful area with many Italian cafes and restaurants as well as a great farmer market. Moreover, there is an annual Little Italy Festa taking place there.

North Park


This neighborhood is populated predominantly by young people due to reasonable rent prices, vibrant nightlife, multiple cafes and breweries as well as a location close to downtown.

Gaslamp Quarter


If you can not imagine your life without parties, this neighborhood is great for you. It is a destination of luxurious clubs, lounges and sports bars.

Ocean Beach


Would you like to live on the Pacific Coast? Get instant access to it living in this Oceanside neighborhood. There are many streets to walk up and down, old-school bungalows, and vast beaches to take up a variety of outdoor activities.

Tips for moving to San Diego
Why should you move to San Diego? In fact, the number of reasons is very big, but it is also very important to remember that every city has its peculiarities. That is why it's better to take several pieces of advice from locals related to the move to San Diego.
Obtain a car with the lower emission of chemicals to drive in San Diego or it may take months to sell one because of more severe emission standards. Every car should pass a smog test here.
Avoid buying homes on the hillsides as they can be swept away or damaged by mudslides.
Avoid fire-prone districts for a living because the sun is shining brightly here.
Update your driver's license and register a car in the new place of living.
Get a dog license if it is older than 5 months.
How to move to San Diego?
It is difficult to determine the best time to move to San Diego, but it is certainly not summer. There can be unbearable heat if you decide to travel by car, train or bus to your new home. In fact, you can fly by plane, but it may be rather expensive to deliver your belongings in this way.
If you plan to relocate to this marvelous city and take many valuables with, consider the services of a professional moving company in San Diego. California Movers is a trusted leader in the market of full-service moving companies that will deliver your belongings safely and carefully to your new home.