Big cities have always attracted people as they provide more opportunities. If you live in a small town or village in Arizona, once you might think about what to expect when moving to Phoenix, AZ. It is the largest metropolitan area in the state that is also known as the Valley for the Sun, so there is nothing surprising that hundreds of people arrive in the city on a daily basis in search of a better life.
Phoenix is the 6th most populous city in the US that is growing incessantly. The current population of the city has exceeded 1.6 million people, while the city metropolitan area has become home to over 4.5 million people. The increase in the number of the local residents has been more than 1.5% each year since 2012, while in 2017, Phoenix was ranked the second among the fastest-growing US cities too. 80% of people and companies that move to Arizona head for Phoenix, so the city has made its great contribution to make Arizona the 2nd fastest-growing state in the nation. With such an increase in the number of citizens, it was estimated that Phoenix will be the 4th most populated city in 2020.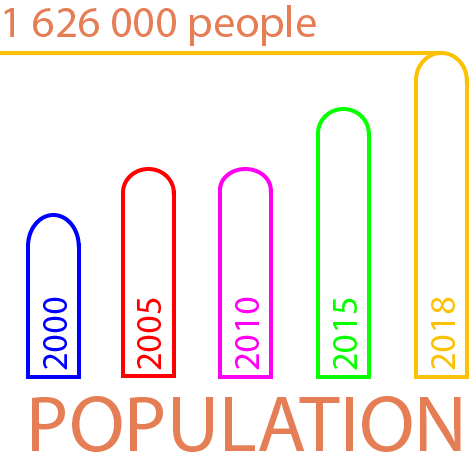 What states send Arizona new residents? In fact, if to analyze data by the American Community Survey, the first place by a large margin is taken by California – over 31,500 people left the state within 2012-2016. The state is followed by Washington (over 10,000), Texas (over 9,000), and Illinois (over 8,000). If to speak about areas that provide Phoenix with new residents, the first places in the rating are taken by Tucson, Los Angeles, Chicago, New York, and Seattle. When it comes to Arizona residents, 11% of newly arrived Phoenix residents are native Arizonans. Naturally, Tucson takes the first place, but there are also people moving from Flagstaff, Prescott, Lake Havasu City, Yuma, and others.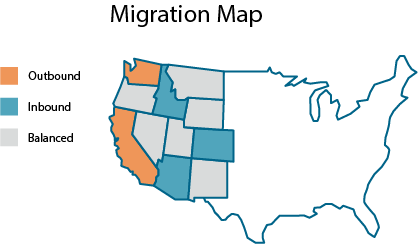 At the same time, it is not easy to become a resident of Arizona. How long do you have to live in Arizona to be considered a resident? Well, according to the local law, to become a resident of this state, you need to establish 'domicile', live in the state at least for 6 months, and use a local address for different purposes such as voting registration, obtaining driver's license etc.
Why should you move to Phoenix?
If you plan moving to Phoenix, Arizona, you might be already aware of some of the benefits you will get living in this city. However, it will be useful for everyone to look through the pros of living in Phoenix as you might learn something new as well.
1. Cost of living
Is Phoenix a good place to live? Undoubtedly, it is one of the few American metro areas with a rather affordable cost of living. You will not pay more than the national average for groceries, healthcare, transportation. In some cases like with health insurance, it may be even savvier to live in Phoenix. However, a basic list of utilities might cost you 14% more than around the US. Numbeo estimates a minimum amount of food per person in Phoenix at around $305. If to analyze that an average salary in the city is $3,365, eating out is not a problem too.
2. Housing and rent
Naturally, prices for homes in metro areas are always higher than in smaller cities. But Phoenix is the second cheapest city among other metropolitan areas by the cost of housing. The median home price in the city is $241,000. Of course, it is higher than the national one of $216,000. However, the difference is not that critical if to consider that the median household income is about $52,062 and it is constantly growing.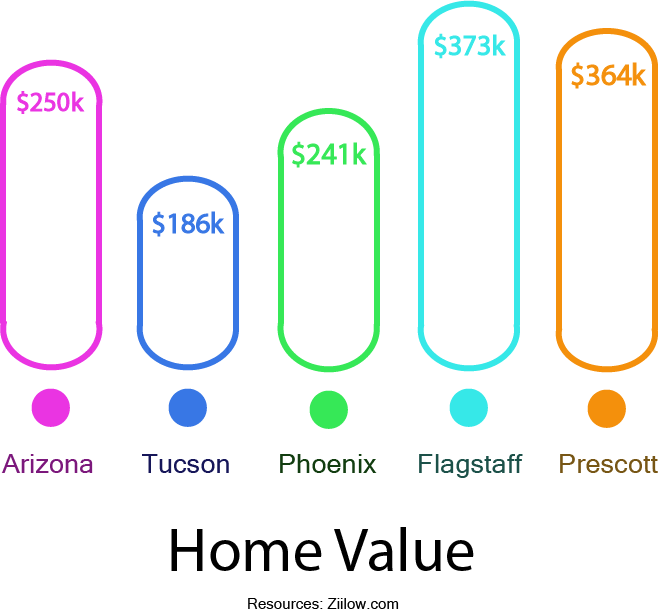 Rent prices are also close to the national ones. The average Zillow rent price in Phoenix is $1400, while the American average is $1,480. The metro area is a bit more expensive – $1,445.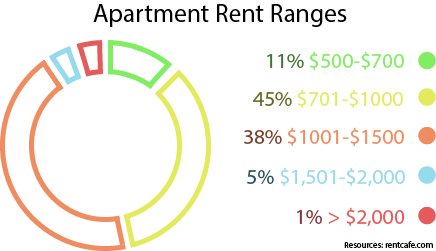 3. Beautiful nature
Located in the Sonoran Desert, Phoenix has a unique aesthetics in comparison with other cities. It is surrounded by such mountains as the McDowell Mountains, Superstition Mountains, White Tank Mountains, and Sierra Estrella, and the main place of adoration is the Salt River flowing through the city. Phoenix has unforgettable sunsets and multiple natural treasures including Tonto Natural Bridge, Saguaro Lake, Petrified Forest National Park, and others.
4. Outdoor activities
If you prefer an active way of life, Phoenix offers a variety of opportunities to spend time outdoors. There are 189 parks, 200 miles of trails, and thousands of acres of desert preserves to relax in the open air. Mountains offer such great activities as cycling, hiking, climbing, backpacking, horse riding, and even tubing. Lakes and rivers are excellent for swimming, fishing, kayaking, while great outdoor facilities are perfect for going in for sports or playing outdoor games.
5. Employment
Phoenix is considered to be a great place for employment because it is one of the most attractive cities for starting a business. There are over 500 companies with their headquarters in this city. The unemployment rate in Phoenix is 3.8% and the number of jobs in constantly growing with 3.30% increase for the last year. The highest-paid jobs are in such industries as mining and extraction, utilities, technical and professional services, management etc. The top 5 industries are real estate, finance and insurance, manufacturing, retail trade, and healthcare.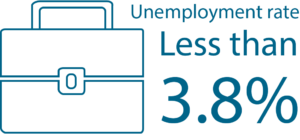 6. Good healthcare
Phoenix can boast lower death indices thanks to a high-quality healthcare system. There are 56 medical centers and hospitals in the metro area, while some of them such as Mayo Clinics and John C. Lincoln North Mountain Hospital have been ranked the best in several nominations.
7. Climate and weather
When it comes to the weather, it is not surprising that there are about 300 sunny days per year in the hot desert climate. Naturally, the temperature may rise over 100 degrees but you can easily bear it because this heat is dry. Such drought prevents from appearing of mold, mildew or car rust as well as minimizes the number of mosquitoes or gnats. Winters are mild and the temperature can drop to 32°F rarely.
8. Vibrant arts and culture
You will always find a good place to enjoy the local culture in Phoenix. You can visit opera, ballet or listen to the symphony orchestra. There are several theatres and impress with the diversity of their performance as well as a vibrant art scene that can be appreciated in local galleries and public places. The city can boast many architectural masterpieces and many museums for people of all ages.
9. Numerous events and fiestas
When you get tired of the local entertainment, it is time to become a regular visitor of other interesting attractions and events. You can visit a zoo, botanical gardens, old castles, and mansions but the most popular destination for Phoenix residents is funny annual events. Who would not like to visit the largest horse show in the world, celebrate the days of Japanese culture or attend a real rodeo? The diversity of local fiestas and events is unbelievable.
10. Tasty food
Phoenix will not disappoint people who love Mexican cuisine as local tacos are considered to be real culinary masterpieces. However, there are many restaurants serving dishes of other countries, so you can taste some exclusive delicacies there too. Some restaurants date back to the previous century including Monti's La Casa Vieja (opened in the 1890s) and The Stockyards steakhouse (1947).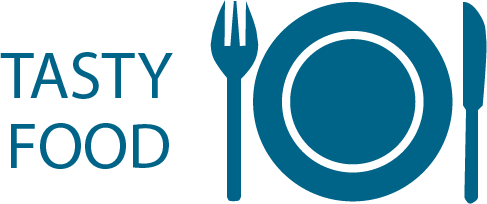 11. Sports
Phoenix is a sports capital of Arizona because it is home to 4 professional sports leagues. Local sports fans cry for NBA (Suns), NFL (Cardinals), NHL (Coyotes), and MLB (Diamondbacks), while the main sports facility of the city is the D'Backs' stadium with a retractable roof.
In addition, Phoenix is a paradise for golf players as there are more than 200 golf courses in the city and the main golf tournament – the Phoenix Open – is held there too.
12. Light traffic
Despite being a large city with hundreds of thousand residents, it still has rather light traffic even in rush hours. The grid road system is rather easy to navigate and it has excellent quality being safe, clean and cared about. Trulia has even called Phoenix one of only 2 US cities with the population over 1 million people where commute time is one of the shortest. Moreover, the city is bike-friendly and has a well-developed light rail system to get to any point in the city quickly. No wonder that traffic is rather light here too.

13. Great nightlife
Every young person might wonder "should I move to Phoenix?", but not everyone knows that you will never feel dull in this city even at night. There is a variety of nightclubs, upscale lounges, dive bars, and many other attractions to let your hair down. Local pool parties are famous all over the world because here you can wear a swimsuit all year round.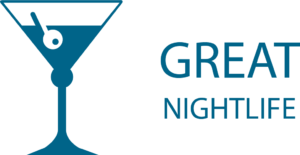 14. Tasty coffee
The capital city of Arizona offers delicious coffee to everyone, so this drink has taken a special place in the everyday life of the residents. It seems that a new coffee shop is opened every month and you can enjoy this drink everywhere.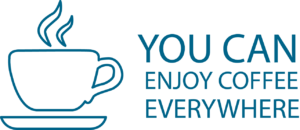 15. Consciousness about environment
How is it with water in the desert? Undoubtedly, it is a real problem but Phoenicians have solved this problem making canals to the Colorado River. They are very conscious about water use and appreciate every drop of this valuable resource.
Another way of taking care of the environment is the domination of cyclists in the city. There is even the Grid Bike Share Program for people who prefer riding bikes. Many homeowners try to use solar batteries and other technologies to save energy as well.
16. Cheap education
There are 33 school districts in Phoenix with over 27,000 students studying there and over 1000 schools functioning in the metro area. However, Arizona is ranked 49th in the amount of money spent per every student, so education is one of the cheapest in the US here.
Moreover, Phoenix offers excellent opportunities to get a university or college degree at Arizona State University, University of Phoenix, Grand Canyon University and others.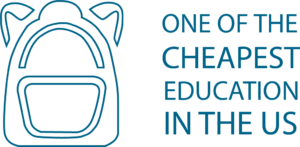 17. Young median age
It is great to live in Phoenix because you will be always surrounded by young active people. The median age in the city is 32.9, while the national average is 39.4.
18. Extensive American heritage
Moving to Arizona you can learn much about the history of the country you live in.
Phoenix is proud of its long Native American heritage. You can learn more about it in the Heard Museum that has an exhibition of Native American art. There you can see a full Navajo hogan, their traditional homes, jewelry, arts etc.
Reasons not to move
Having analyzed the reasons why move to Phoenix is the right solution, it is worth considering the negative features of this city. Every person should be prepared for the challenges awaiting him or her at the new place of living.
1. Wildlife
It is important to remember that Phoenix is a desert, first of all, so it has a respective flora and fauna. If you have not lived in the desert before, you might be terrified by the wildlife to come across here. These are coyotes, desert tortoises, scorpions, chuckwallas, wild pigs, Gila monsters, and a big number of snakes. Some of them are not afraid of the city bustle and become the guests of your home.
2. Prickly plants
Though Phoenix may seem a very green city, most of the wild plants growing here are prickly. You can see many cacti and other similar plants here, so avoid walking barefoot here too.
3. Taxes
Though living in Phoenix is not very expensive, you must be prepared to give a part of your income for the sake of the city and state. If income tax in Phoenix is a bit lower than the US average – 4.2%, the sales tax rate for the city is even higher – 8.6%.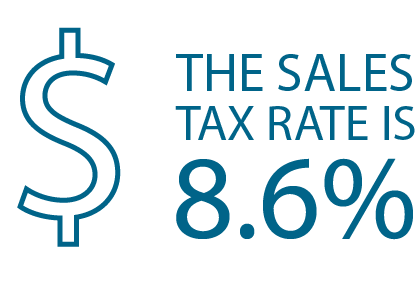 4. Many tourists
Have you ever lived in the city with the population over a million? In fact, people are everywhere there, but how will you react when their number increases greatly because of the arrival of tourists? Many people are attracted by luxurious golf courses and exciting casinos, so over 16 million people visit the city annually.
5. Oppressive summer sun and droughts
Though the local climate is dry and sunny, there is another side of the medal too. Sometimes the sun can be really oppressive and you run out of the moisture very quickly. It means that a bottle of water is a necessity here no matter where you go. Moreover, such a dry climate can lead to occasional dust storms and monsoons too.
6. Air quality
It is not surprising to learn that big cities have much more polluted air than rural areas, but the location of Phoenix makes the situation even worse. Being a desert city surrounded by mountains leads to the creation of so-called the "Brown Cloud." It influences the quality of the air and a necessity to hide on Ozone Alert Days several times in a year.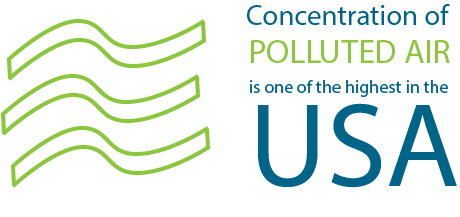 7. Crime rate
Unfortunately, you cannot feel absolutely safe living in Phoenix. Whether it is an Old West mentality or rather permissive gun laws, but there is a big problem with fraud and violent crime in the whole state. It has even taken the first place nationwide in such crimes as identity theft and kidnapping. The total crime rate for 1,000 residents is 44.81, while the number of violent crimes was over 12,000 and property crimes – over 60,000 last year.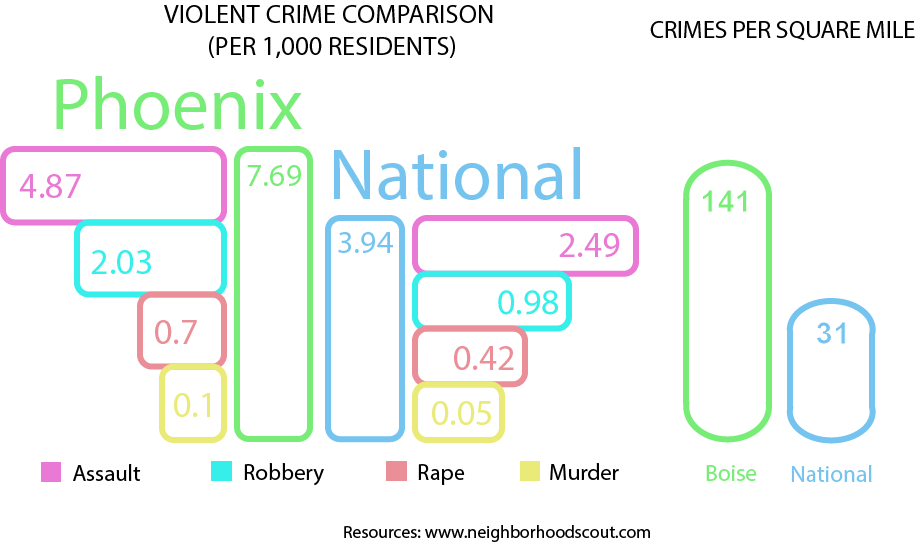 8. No walking
When you arrive in Phoenix, you will not see many people walking in the streets. In fact, according to CREUA study, Phoenix takes the 29th place among 30 metro areas in walkability.
9. Conservative
Moving to Phoenix area with rather liberal views can be a problem because the whole state and the city as well are solid-red. Probably, your liberal views won't be shared here.
10. Low-quality tap water
It is natural that water is of high value in the desert and being delivered through so many canals and purified for local residents, it is still very hard. You should not drink tap water not only because it is disgusting but also not to have health issues.
11. Suburban feel
It is difficult to explain what exactly makes Phoenix feel suburban, but living there you may come to the conclusion that it does not look like other metro areas. There is a faceless downtown, many privately owned homes spread, lack of bright colors, so it looks different from other urban areas.

Best places to live in Phoenix
Moving to Phoenix you need to choose a neighborhood where to live in advance. The city is very spread, so you should think of how long it will take you to get to work and consider the difference in home prices as it can be very impressive. Other factors to consider are safety and the presence of basic facilities. We have prepared the top 5 best Phoenix neighborhoods to consider for a living.
Ahwatukee


It is one of the best neighborhoods in Phoenix featuring a suburban feel. There are detached houses predominantly and many parks to go for a walk. Schools are rated high there, but the cost of homes in higher and the crime situation is not pleasing as well.

Gilbert


Being a more affordable area than Ahwatukee, Gilbert is one of the highest-ranked neighborhoods in Phoenix. There are great public schools, coffee shops, parks as well as places to eat – it has been called one of the top 5 foodie neighborhoods.

Paradise Valley


Being the wealthiest municipality in the state, it offers a very high level of life too. Homes are evaluated at the median home cost of the city here, while the variety of amenities will not leave anyone indifferent. There are many attractions and opportunities for outdoor activities too.

Biltmore


This is a prestigious area in Phoenix that is also a financial center of the city. There is a famous Arizona Biltmore Hotel, many restaurants and cafes, and an open-air shopping center located there.

Coronado


Located close to the center, the area offers access to three main highways and is home to hundreds of small businesses thriving here. It has a long history but offers modern facilities to its residents. It consists of 3 small neighborhoods with over 5,000 households.
Worst neighborhoods
Naturally, every city has some neighborhoods that do not seem appealing for a living. Phoenix is not an exception, so we advise people planning a relocation to Phoenix, AZ avoid the following districts.
Central City


The area does not offer many jobs, so the unemployment rate here is higher – 7.5%. It is not considered safe and affordable too.

Maryvale


The neighborhood shows average data of all the factors that influence the quality of life. It is not very expensive and has basic amenities, while the number of jobs and crime rate are mediocre.

Estrella


Being one of the least densely populated districts its negative features are a lower number of jobs and safety issues.

South Mountain


This Phoenix neighborhood is also not densely populated. It is not absolutely safe and many people have difficulty in finding jobs there too.

Alahambra


Living in this area is one of the most insecure ones. Moreover, it is densely populated so there are troubles with finding a job. Despite these features, home prices are not low as well.
Best places to work in Phoenix
Employment has always been a driving factor for moving. Being a popular destination for companies moving to Phoenix, the city has been ranked one of the best for opening business. Considering the main industries people are employed in, the first place is taken by healthcare and social assistance (12.2%), retail trade (11.6%), and accommodation and food services (8.7%).
Government jobs are also very developed in the city taking fourth place by generating GDP.
If jobs are one of the reasons to move to Phoenix, the top largest employers of Arizona state include:
Banner Health – healthcare industry with over 39,000 employees.
Wal-Mart Stores Inc. – retail trade with over 34,000 employees.
Kroger Co. – groceries stores with over 16,000 employees.
McDonald's – fast food sphere with over 15,000 employees.
Wells Fargo & Co. – financial services with over 15,000 employees.
Albertson's – groceries stores with over 14,000 employees.
Intel Corp. – technology manufacturing with over 11,000 employees.
Tips
Every person who wants to relocate to Phoenix, AZ, should be aware of the basic rules of how to make this process smooth and stress-free. Learn several useful tips on how to make moving to Arizona more efficient.
Choose any season for relocation except for summer;
Get prepared to the heat: pack for the heat, dress for the heat and schedule your move to avoid extreme temperatures;
Create a moving checklist to ensure that everything was delivered to a new home;
Change your driver's license, register for voting and your vehicle in DMV office immediately after arrival;
Learn your trash and recycling schedule.
How to move
What makes up A to Z moving? It is not only the choice of transport to move to another city but also a consideration of many other issues arising from the process. If you plan to move alone, it will not be difficult to get to Phoenix as the city can boast an excellent bus and rail connection with many US cities.
Moreover, the city is served by Phoenix-Mesa Gateway Airport that can deliver you to more than a dozen of destinations in the country.
However, if you do not want to make relocation a burden, it will be the right solution to order professional moving services from a trusted company. California Movers is one of the best long-distance moving companies always happy to provide you with a full range of services and make your impressions about the relocation only positive.