Located in Los Angeles County, CA Long Beach is the 7th biggest city in the state. It is a charter city that has spread along the coast of the Pacific Ocean and has the 2nd busiest container port in the country.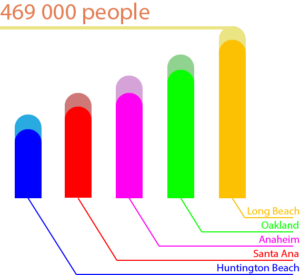 Long Beach has always attracted people who looked for jobs in different spheres and wanted to live on the Pacific coast, but there has been even a decrease in the city population for 2 last years. It has been estimated that the population of the city is over 470 thousand people with a density over 9 people per square mile. Moreover, the city features the highest number of Cambodian migrants (over 20,000 people) and over 40% of the local population are Hispanic or Latino. Despite the domination of the young population, many people have to live in poverty (about 20%) and work hard to make ends meet. At the same time, this city remains a dream destination for many Americans and foreign immigrants, so moving to Long Beach, CA has both its pros and cons to be considered.
Why should you move to Long Beach
In fact, Long Beach has many features that make it a good place for moving. Living in Long Beach has the following benefits.
1. Great location
Long Beach is a city located at the Pacific Coast and lying not far from Los Angeles and other great Californian cities. You can easily get to any point of the state from this city as well as any place on the globe – there is a huge port there too.
2. Climate
Having a Mediterranean climate, Long Beach features hot summers with a pleasant sea breeze as well as mild winters with not much precipitation.
3. Living at the coast
Coastal cities offer a variety of aquatic activities as well as better air quality. Long Beach is not an exception and is often called the "Aquatic Capital of America".
4. Entertainment
The city offers many different ways of relaxation both active and passive, so you will never feel boring here.

5. Tasty food
In this city, you can try the cuisine of many different countries. Naturally, there are delicious tacos originating from Mexico, but there is a chance to taste Thai, Lebanese, Vietnamese, Southern, Cambodia dishes as well as their fusion. There are also many cafes that offer tasty coffee.
6. Easy and fast commuting
What makes Long Beach great is a light train line that makes commuting and moving around the city quickly and comfortable. The average commuting time in the city is only 23 minutes.
7. Employment
Thousands of jobs are added in Long Beach base annually. Over 30 thousand people are employed in the seaport, but there are many other industries offering jobs there. Education, healthcare, government, retail, aircraft are only several of them.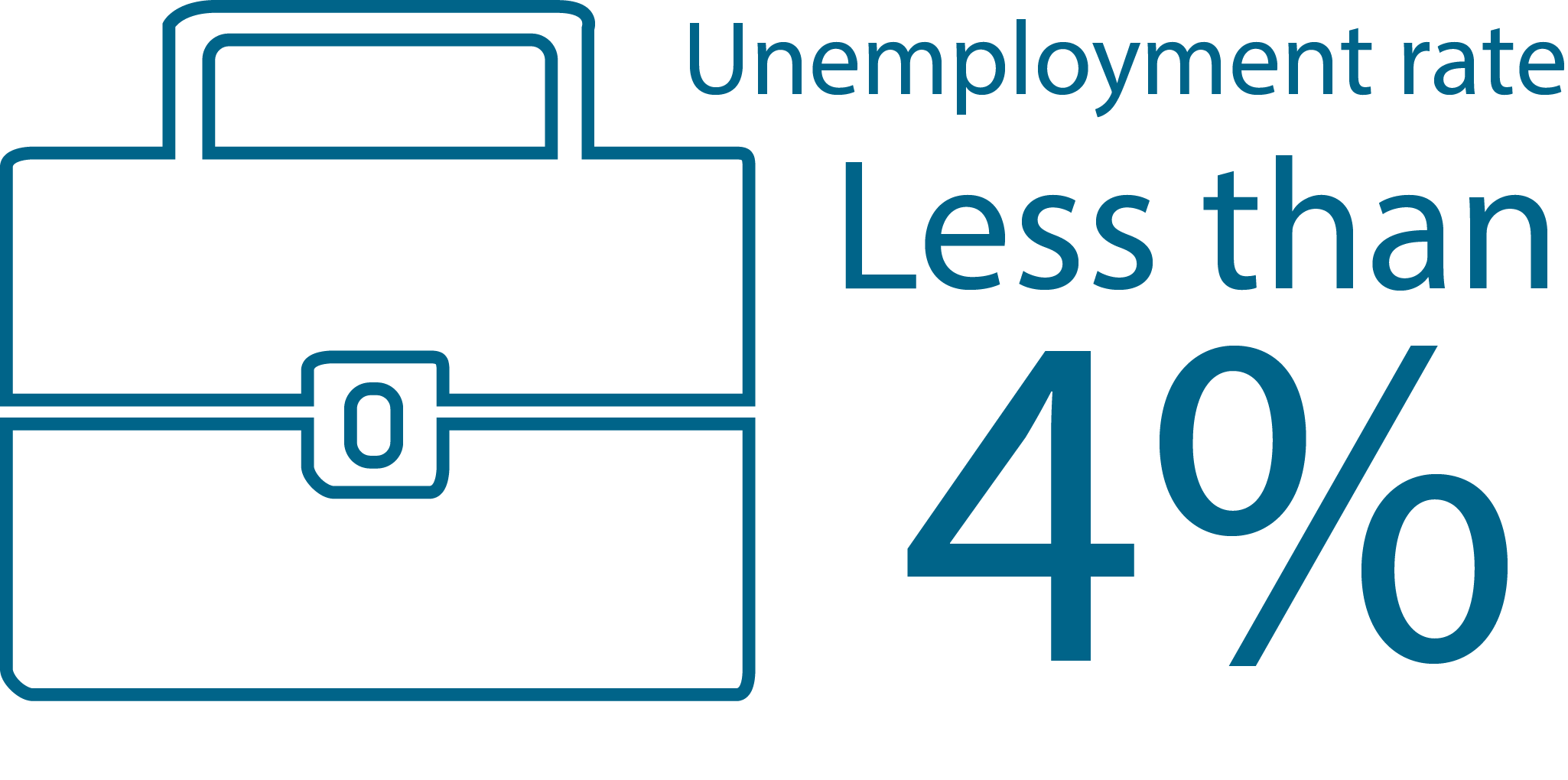 8. Good education
Many parents agree that the quality of education in the city is rather good. Both public and private schools serve local pupils. Moreover, there are two public institutions to continue education and get a degree.
9. Gay-boyhood
Long Beach is a huge gay hub. Local people treat the LGBT community rather friendly and there are many destinations meant for this group of people.
Reasons not to move to Long Beach
However, there are several features of the city that make moving to Long Beach a tough decision. There are several downsides of the city you'd better know.
1. Cost of living
It is natural that most of the Californian cities have a higher cost of living index in comparison with the national one. Long Beach index is 79% higher and the main factors that influence it are housing and transportation. Healthcare and utilities are even cheaper, while groceries have the same price.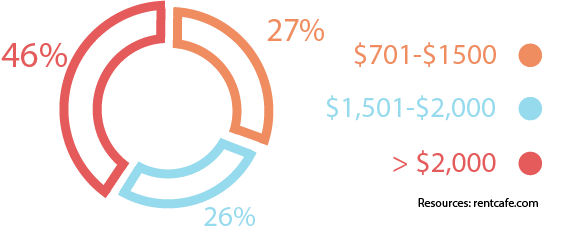 2. Expensive housing
The median home cost in Long Beach is twice more expensive than the national average one. You need about $581,000 to buy a house and it is even more than the median home price in California.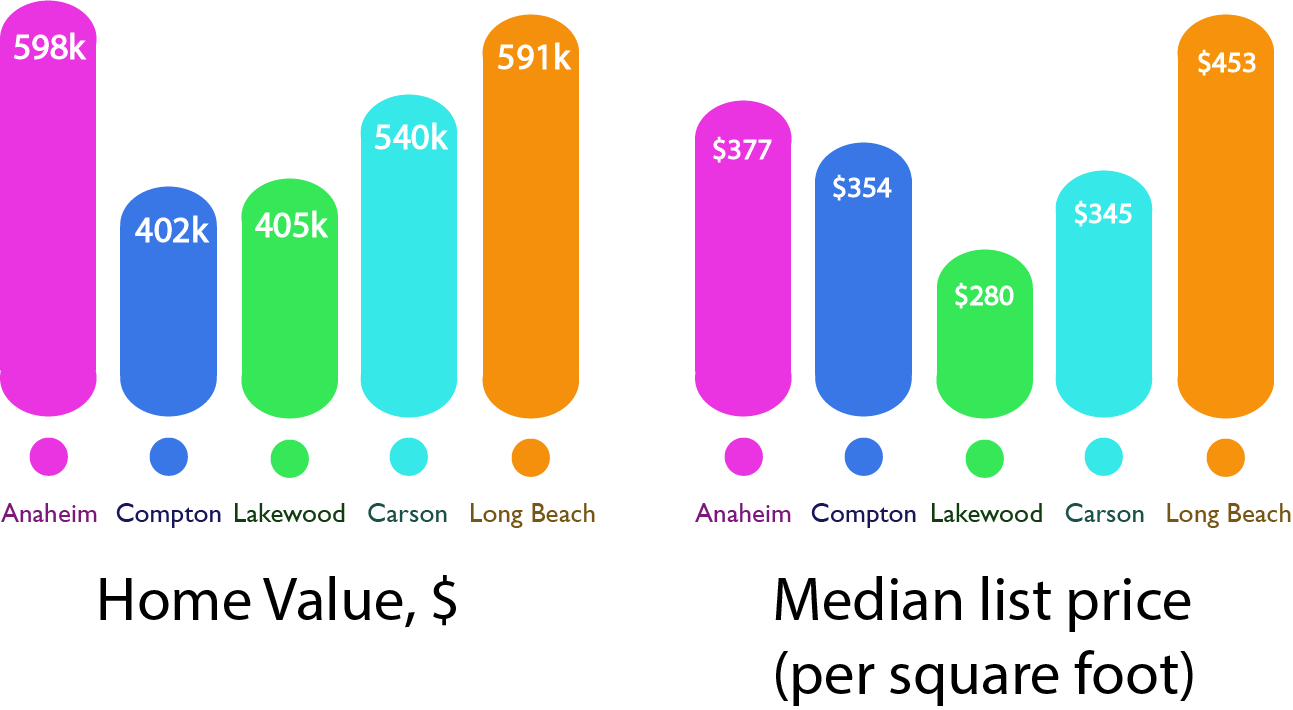 3. Pollution
Is Long Beach safe? When it comes to pollution, it is not that safe. The presence of the large port and arrival of many vessels make both water and air in the city rather polluted.
4. Crime rate
When you compare Long Beach crime rate vs national one, it is apparent that it is much higher. The total number of crimes in the city is 3,330 per 100 thousand residents, while the national number and one in California are lower – 2,745 and 2,946.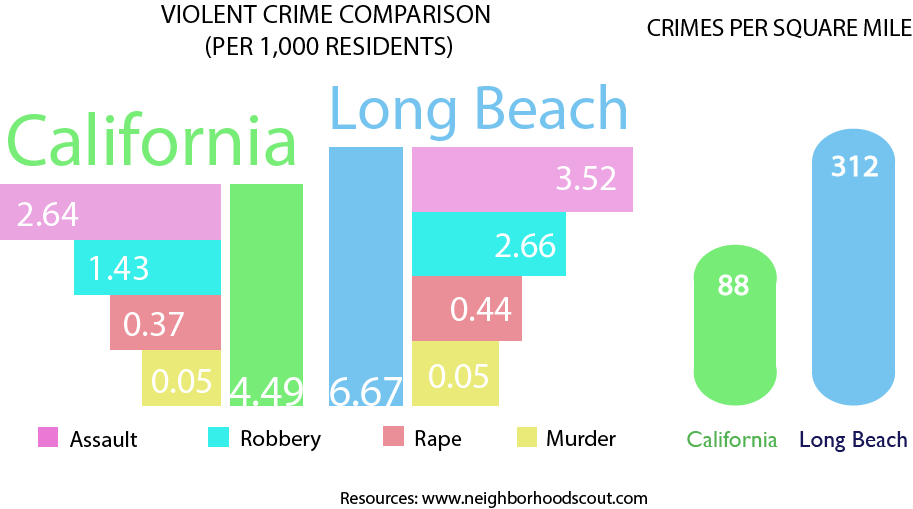 What to do in Long Beach
Long Beach offers many interesting ways to spend time with pleasure. In addition to multiple venues displaying arts, music, theatrical performances, there are many places to go in Long Beach. There is an opportunity to see an old ocean liner Queen Mary that reminds a famous Titanic. Another great sight is the Aquarium of the Pacific. It takes a 5-acre area and you can see a variety of marine residents there as well as enjoy a new Earth-Friendly Garden located on the front lawn.
The city also offers marvelous recreation opportunities in 170 parks located in it. Some of them can take you to the beautiful serene places such as Earl Burns Miller Japanese Garden, for example. It is even possible to have a gondola trip in the city along the unique Naples Canals. Local parks are National Gold Medal Award Winners, so you will be amazed by them too.
The city also has different historical sights, a dog beach and many other interesting places. The activities and attractions are rather various and suitable for any taste, especially when it comes to sports. You can enjoy it on the local beaches or visit special professional facilities too.

Best neighborhoods
One more challenge for people moving to a new city is to answer the question of where to live in Long Beach. The city has many neighborhoods, but it is always important to find a good one suitable for living. There are 5 best neighborhoods in Long Beach.
Park Estates


It is a safe neighborhood with more opportunities to find a job and many different amenities. However, homes are rather expensive here.

The Plaza


A dwelling is more affordable in this neighborhood, while jobs, amenities, and safety are at a very high level as well.

City College Area


It is a more populous and large neighborhood with an excellent level of safety, a variety of amenities, and multiple jobs.

Alamitos


Having bigger prices for homes, it is a very safe neighborhood with rather developed amenities and good job opportunities. Moreover, it features a small number of people living here and a twice lower population density.

Lakewood Village


Despite the fact that homes are a bit overpriced here, this neighborhood has excellent amenities, safety, and job characteristics.