Is it worth moving to Burbank?
You might wonder what exactly Burbank has to offer you. Here are some advantages of moving to this city.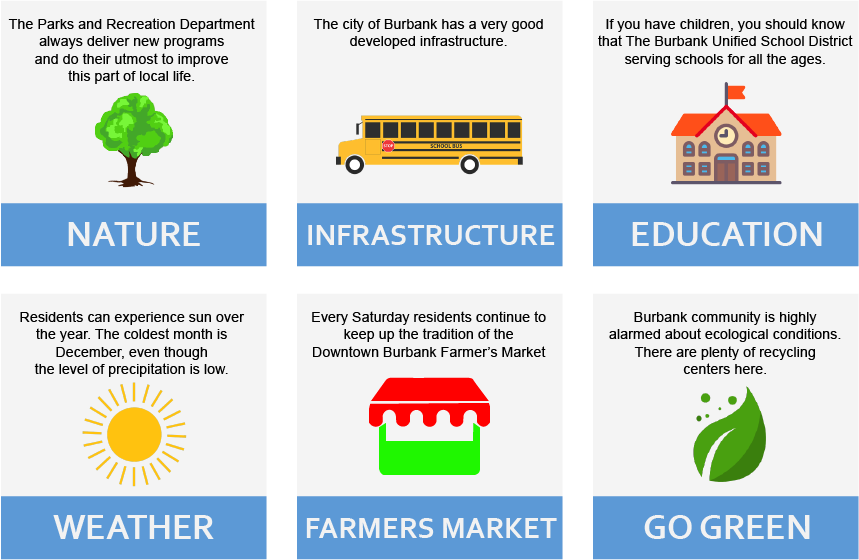 1. Weather
For starters, the weather – residents can experience sun over the year. The coldest month is December, even though the level of precipitation is low. Such climate conditions allow experiencing outdoor activities during the whole year.
2. Famers market
Every Saturday residents continue to keep up the tradition of the Downtown Burbank Farmer's Market. It is the place where you can both recreate and buy some delicious food.
3. Nature
Burbank is lush green. The city has 41 public parks with baseball fields, swimming pools, tennis courts, and designated areas for picnics when the weather is great. There are also playgrounds and gyms with fitness equipment. There are many other things to do as well. You can visit the Verdugo Mountains, just outside the city's northern border or the Runyon Canyon Park in the south. Relocation to Burbank makes sense to those who love the outdoor lifestyle. It is one of the best places for nature lovers.
4. Infrastructure
The city of Burbank has a very good developed infrastructure. It includes basically ideal connection by highways and railroads, public places, the city's government and public safety departments.
Burbank has its own police and fire departments. Both are separated from Los Angeles departments, which enrich the feeling of safety among residents. The hospital Providence St. Joseph Medical Center is another facility of significant matter in the city.
5. Go green
Burbank community is highly alarmed about ecological conditions. There are plenty of recycling centers here. It's important to note that the government encourages people to follow the ecological decisions in public and private life.
6. Education
Burbank has many top rated schools and a good university scene. The Burbank Unified School District serves schools for all ages. There is the John Muir Middle School, Theodore Roosevelt Elementary, and the Burbank High School. The campus of Woodbury University offers very good facilities for graduate and ungraduated programs. The schools and university here can guide students to a good future.