Fish are the most silent pets that make their owners happy each time he or she looks at them. At the same time, if their owner has to change a place of living, it can be a huge challenge to move aquarium with or without fish. In fact, there are several things to consider when you need to transport fish long distances.
1. Preparation for a trip
Every fish owner should remember that these creatures are very demanding in care and any mistakes can lead to their death. That is why preparation for relocation from house to house should be thorough. You need to decide what means of transport you will use and learn the peculiarities including time of transportation, conditions, documents required etc.It is important to change the water in the aquarium before moving a fish tank to a new house several days in advance. It means that fish will have time to get accustomed to it and will travel in the clean water. You should also decrease the amount of water by 20% every day 5 days prior to the relocation.
2. Packing
It is natural that you will have to use another container instead of the tank to transport your fish. Most often it is a plastic bag that must be filled with the water from the aquarium. You can tie it with a rubber band for reliability or leave some space for air if transportation will take more than one hour. Another alternative is a solid container with a lid. It will be a right choice for fish with sharp fins. Both a container and a plastic bag should be also placed in the insulated container to preserve the necessary temperature.
3. Transportation
It is preferable to pour water from the aquarium into the container for transportation. Any plants or decorative items should be excluded not to damage fish on the go. One more advice is to prevent fish from sunlight as in the darkness they are not so active. Never feed them during the trip.
Moving your fish tank long distances
Transportation of fish for long distances can be a problem as every type has its peculiarities. Of course, it is possible to put all the fish from one aquarium to one bucket for transportation, but every fish can be transported differently too. For example, gold fish is the most popular aquarium fish. It can die because of the excess ammonia, so it is preferable to take at least a 5-gallon bucket with water and it will be enough for 4 3-inch fish. They can be transported in it for up to 8 hours and prefer the temperature between 62 and 74 degrees Fahrenheit.

However, the number of fish that can be transported in one bucket depends on their size and duration of the trip. For example, if you take a plastic bag 18 by 32 inches in size and water capacity of 7.6 liters, you can transport 120 newly hatched larvae for 1 hour and only 10 of them for 48 hours. 2 and 3-inch fingerling can be transported for one hour in the quantity of 120, while 40 fish can endure a 48-hour trip.
Small & large aquariums
A water tank is a very fragile thing that can be easily broken. That is why its preparation for moving is very important. Small tanks can be moved in the assembled state, however, you should empty it too. If you have an average-sized or big tank, its bottom can crack, so it is better to remove everything from it. The next steps should be the following:
Determine the total area of the tank;
Learn the construction weight using the following formula: М(kg)=S(m2)*t(mm)*2,5,where M – glass weight, S – area of the item, t – glass width, 2.5 – coefficient that shows a weight of glass with the area of 1m2 and width of 1 mm;
Measure the distance between door constructions and railings.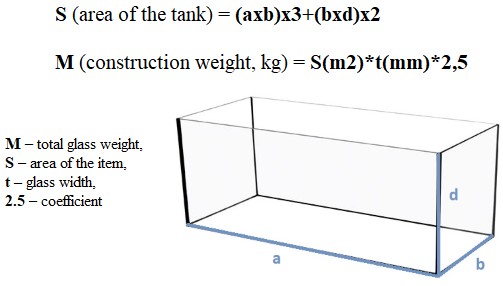 It will help you to understand if you are able to deliver a tank to the vehicle and how heavy it is. Usually, glass items are very heavyweight and even a pair of people can not be able to load it carefully.
Necessary tools
Transportation of the aquarium is a very responsible task, so if you plan to do it yourself, be ready to obtain a number of tools required. There are several of them including:
Water pump or siphon;
Hoop-net with a big connector for soil;
A long hose to remove water for a large aquarium ;
Scraper to remove residual water;
A stationary knife or a pair of scissors;
Towel;
Protective film for home decor;
A compressor with batteries (one compressor for a bucket of 20 l);
Garbage bags;
A wide adhesive tape;
Boxes and other packing materials.
Next to the variety of tools you need, it is also important to find a reliable transportation company that will deliver your belongings safely to the new destination. As a result, your pets and equipment will arrive at a new home quickly and securely.
15 steps for effective moving a fish tank yourself
Though it may seem that you know everything about how to move a fish tank to the new place of living, you still need to check a step-by-step guide to avoid mistakes. Consider the following steps for all your fish to get to the new destination healthy and active.
---
Drain ⅔ of the water contained in the fish tank.
Catch every fish and put it in the container filled with water from your aquarium.
Close the transport container and ensure that your fish have a source of air to breath (compressor with batteries).
Remove every decoration and accessory from the aquarium to inspect it well.
Pack all the items in soft paper or bubble wrap.
Drain all the water from your tank.
Take the bottom sand or gravel out of the tank as well and put it in the bucket or another container.
Wrap a dry tank with bubble wrap from all sides, secure it with protective tape and ask someone to help you will loading if it is sizable.
Put the aquarium in the flat position in the vehicle during the haul.
Drive the vehicle carefully if you have to transport fish long distances to prevent the tank from moving along the car.
Unload, carry and take away the wrap from the aquarium immediately after arrival.
Install all the decorations and equipment; then fill it with water it used to contain.
Take your pets out of fish transport bags using a net and release each of them gently into the new habitat.
Add tap dechlorinated water and let it acquire room temperature before you switch on the heaters and pumps.
Analyze the behavior of your fish at the new place of living for several days to ensure that they got used to it.
---
Ordering a moving service
Unfortunately, most of the situations where people had to move fish across the country in fish shipping bags resulted in the death of some or all favorite pets or damages of tanks and equipment. Tank moving process is a complex task where any mistake can be fatal. So if you want to transport your fish safely for their health and main habitat, it would be right to hire professional aquarium movers. I would be better to pack your small friends yourself, but be sure that the equipment and a tank will be delivered by a full-service moving company with the consideration of all details.
You can prepare your tank and fish for relocation yourself following all steps of the previous paragraph or let experts help you. It will take between 1 and 1 and a half hour, so you should take it into account before setting the time for movers to arrive. They will wrap every accessory, decoration and the tank itself in a professional wrap. The bottom of the latter one will be also strengthened with a wooden surface for utmost safety. It is especially important if you need to transport aquarium plants. The last ones can endure local moving if there is some water inside the tank left for them. If not, they must be removed to the special container too.
Remember that ordering the services of a moving company can prevent you not only from many responsibilities like packing, loading, transporting but also insure you from possible troubles connected with relocation. Choose a trusted licensed company that offers a full range of relocation services including tank moving. Don't forget to warn movers about the size of the tank and other important details (floor, services required) for them to choose the most optimal moving technology.
How to move a fish tank without emptying it
Though it may seem possible to move a large aquarium for long or short distance without emptying it, experts disapprove that. A fish tank full of water, even if it is small-sized, can crack in your hands as soon as you lift it up. The water pressure can easily make the bottom fall off, so it is forbidden to transport a fish tank in such a way. There are several reasons to avoid transporting a 55-gallon fish tank with anything contained inside it:
Any abrupt movement can cause spilling and damages;
Seals in the tank are placed under the uneven stress;
Moving aquarium with anything inside will void its warranty.
It is possible to move the aquarium with a bit of water only if you need to relocate it to the neighboring room, but it is also not advisable too. However, if you still decide to try, follow these tips:
Remove as much water from the tank as possible;
Keep the tank on its original place and slide it together with this furniture piece;
If a previous tip does not work in your situation, take a plywood piece of the aquarium width, slide a tank on it and carry it to the new place with someone assisting you.
It will increase your chances to complete the process successfully and prevent your tank from damages.
Life hacks
In addition to the general pieces of advice about how to transport a fish tank securely, learn several lifehacks that will make the process simple and quick.
Prevent fish from stress adding the elements of decor which are safe for fish life to the container and covering it from bright light.
Buckle with a lid is an optimal vessel for keeping fish.
Don't feed fish 24-48 hours before relocation
Obtain all the tools in advance.
Ask someone for help.
Firstly, put a couple of hardy fish in the delivered and refilled aquarium to get the nitrate cycle established.
Our full service moving company offers quality moving services to everyone. Get professional assistance from experts and we will pack, load, and deliver your aquarium to the new place of living. Forget about relocation troubles with our insurance too.