Are you looking opportunity to become one of those people that are moving California forward? Looking at the statistics of moving to California you can see that this state remains one of the top 3 states in population growth. However, if you think that the reason for that is a positive domestic migration, you are mistaken. In fact, fewer and fewer people think of moving to California because of the sky-rocketing prices for dwelling. The data of the US Census Bureau of the last years presents overwhelming facts that the state loses its native residents and is being populated by migrants and foreign citizens, who constitute almost 40% of the state population already.
California joined states with the highest percentage of people who move locally in 2018. The reason for that is a desire to find cheaper cities and towns for leaving since the cost of living in the state is the second highest in the country after Hawaii.
According to the analysis of the moving trends for 2018, California is ranked the first among net outbound migration states. It means that this state has been left by the biggest number of people in the US within the year of 2018. It seems that this trend continues in 2019 since there are many experts which support this viewpoint with official data. It is enough to remember the results of the survey conducted by Edelman Intelligence at the beginning of 2019: 53% of Californians are thinking about fleeing from the state.
However, despite such a big number of people who set off out of the state, California remains one of the fastest-growing states in the US. The annual increase in population constituted 0.61% in 2017, 2018, and will reach 0.60% in 2019 according to the data of World Population Review. The reasons for such an increase are a huge number of births and foreign migrants who still hunt for the Californian Dream. The statistics say that 156,000 local citizens who left the state in 2018 were replaced by 118,000 international newcomers arriving during the same period. These were predominantly Mexicans and other residents of Latin America, Chinese, Indians, and other Asian nationalities. Most of them are educated people (51%) who come to the USA in search of well-paid jobs.
Some experts predict that in 2019, California will face a decline in the population. The main reason for that is a constantly growing cost of living which is influenced by the cost of housing most of all. Local residents should tighten their belts harder since the median home cost has risen by $550,000 in 2019 and these figures may seem scaring to many citizens.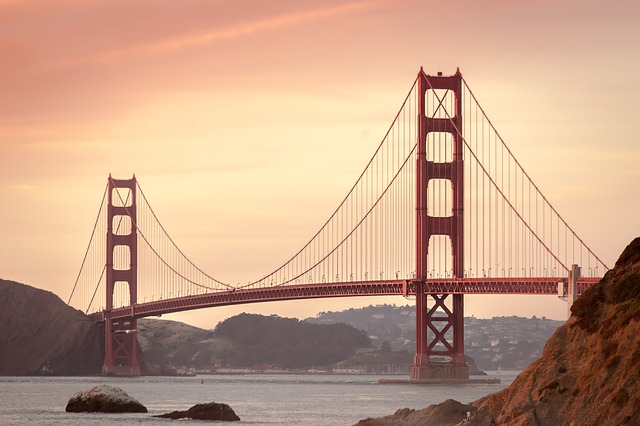 At the same time, there are Americans who still want to make their dreams come true living in California. Most often they come from such states as Texas, New York, Washington, Illinois, and Arizona. These are most often young university graduates and millennials attracted by the possibilities offered in the Sunny State, so California still remains one of the top destinations for moving companies.
Cost of moving
The main thing that worries people who plan to move is the cost of this process. However, there is good news for those who plan to move to California. It is much cheaper to hire a moving company if you plan to relocate to the Sunny State in comparison with the prices for moving out of the state.
One more reason to consider hiring movers when you go to California is a necessity to move not only yourself but also all the possessions you have. If to compare the cost of tickets on bus and plane for the most popular directions and add the price to pay for hiring a truck, you can make a conclusion that it is more reasonable to entrust a full-service moving company with this responsible task than face all these challenges yourself. There is no big difference in the total cost of relocation services, but you will get more for the same money undoubtedly.
| | | |
| --- | --- | --- |
| Route | Bus | Plane |
| Phoenix – SF | From $105 | From $211 |
| Denver  – SF | From $146 | From $79 |
| Boise – SF | From $301 | From $240 |
| Las Vegas – SF | From $71 | From $59 |
| Santa Fe – SF | From $185 | From $163 |
| Austin – SF | From $269 | From $149 |
| Seattle – SF | From $110 | From $229 |
| Cheyenne – SF | No | From $1, 179 |
*The price doesn't include the expenses for moving personal items. This way of relocation is not an option for moving an apartment.
*Includes: Truck + gas, mileage, etc. 2 professional movers + tools. Blankets. Wardrobe Boxes. Assembly/Reassembly. Tax&Insurance.
Pros of moving
It is natural that there are pros and cons of moving to California, but who considers any drawbacks thinking about a dream? This state attracts people from other states and countries as a magnet promising awesome opportunities. It can be compared with the paradise on the Earth since there is a variety of benefits encouraging for moving.
1. Outdoor activities
It is difficult to find another US state which offers such a diversity of outdoor activities. It is a place where you can combine water and mountainous kinds of sports without a necessity to go anywhere. Surfing, swimming, hiking, biking, volleyball, climbing are only some of the activities to take up there.
2. Nature
One of the unquestioned pros of California state is incredibly beautiful sceneries. Here you can find everything a nature-lover can hope for. Unforgettable marine landscape, gorgeous mountains, thick forests, crystal water rivers and lakes, vast desertion areas are only some of the natural diamonds to enjoy in the Golden State.
3. Weather
If you think that California has 4 seasons of sunshine, it is worth noting that mountainous regions do feel all 4 seasons including harsh winds, rains, and snowstorms. At the same time, the biggest part of the state can bathe in the sunshine 300 days a year and enjoy beautiful weather almost on a daily basis.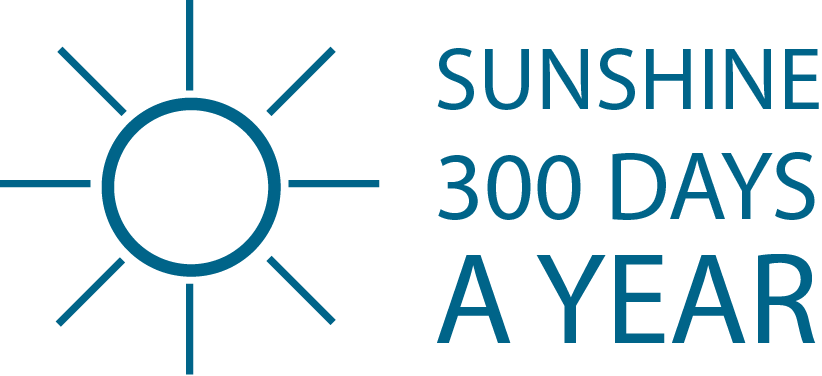 4. Good education
California has a very high percentage of educated people and many of them have graduated from local colleges and universities. The reason for that is a very high quality of both secondary and higher education as well as the presence of several top-rated universities on its territory.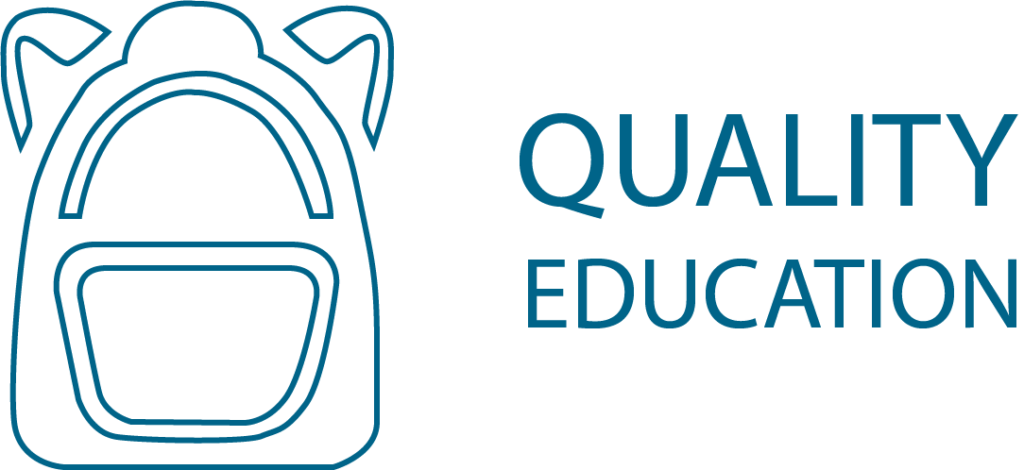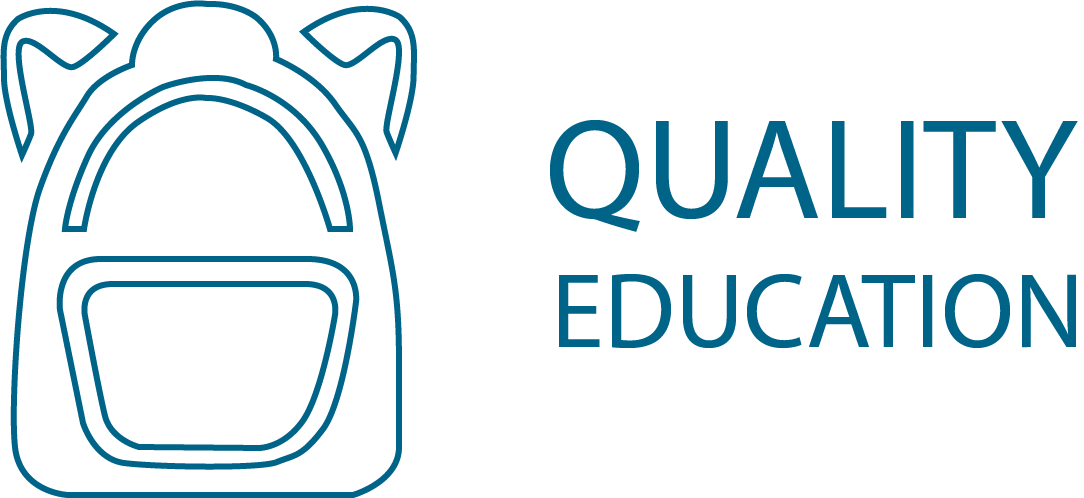 5. Cultural diversity
If you believe that CA is a US state, you will be surprised to see its population and neighborhoods on arrival there. Sometimes it may be difficult to find a true American among Hispanic race, Chinese, Indians, citizens of the Philippines, Arabic states and many other nationalities.
6. Farmer's markets and products
It is difficult to believe that California is an agricultural state first of all. Did you know that it is a top dairy state? Moreover, its warm climate is perfect for growing different fruits and vegetables, so it exports many goods produced in other states.
Both large and small cities of the state welcome regular farmer's markets where local residents can buy fresh and quality local products for reasonable money.
7. Wine
The main producer of wine in the US is California. Its vast wineries have spread in the mountainous valleys and local farmers gather ripe and sweet grapes which are manufactured in the best US wine then. There are 52 must-visit wineries in the state, though there are over 1,000 of them there.
8. Entertainment
It is guaranteed that nobody will feel sad in California because such a variety of entertainment you can find here is impossible to get anywhere else. It is a place where you can visit the renowned Hollywood, multiple music, film, and other festivals, explore world-class museums, exhibitions, and shows, discover technological innovations, develop culturally. You may need years to experience at least half of everything offered here.


9. Healthy lifestyle
Not only food and fresh air contribute to the healthy lifestyle of Californians. They have multiple opportunities to go in for sports and take care of their health being treated in the best medical institutions of the country. As a result, the state features a lower mortality rate and fewer mental health disorders.
10. Dynamic economy
Guess, who has the largest economy in the US? You've got it, of course, it is California. It is very diverse though its main engines are agriculture, tourism, technology, manufacturing etc.
The state GDP is $2.9 trillion and it is 14% of the American economy. The core of the state economy is focused in the Bay Area, with one of the highest GDP per capita in the world – $74,815. There are 3.9 million small businesses, 400 agricultural products produced, several largest ports, incredible film industry, powerful sports teams, and many other sources of income which make it so successful.
11. Ocean and beaches
There is no another similar state in the US with over 800 miles of wide and sandy beaches which offer the best experience by the water. Whether you want to feel the sea breeze, play beach games, build sandcastles, dance on the beach party all night long, gaze at the stars, local beaches are perfect for everything so it is always a hot spot for Californians.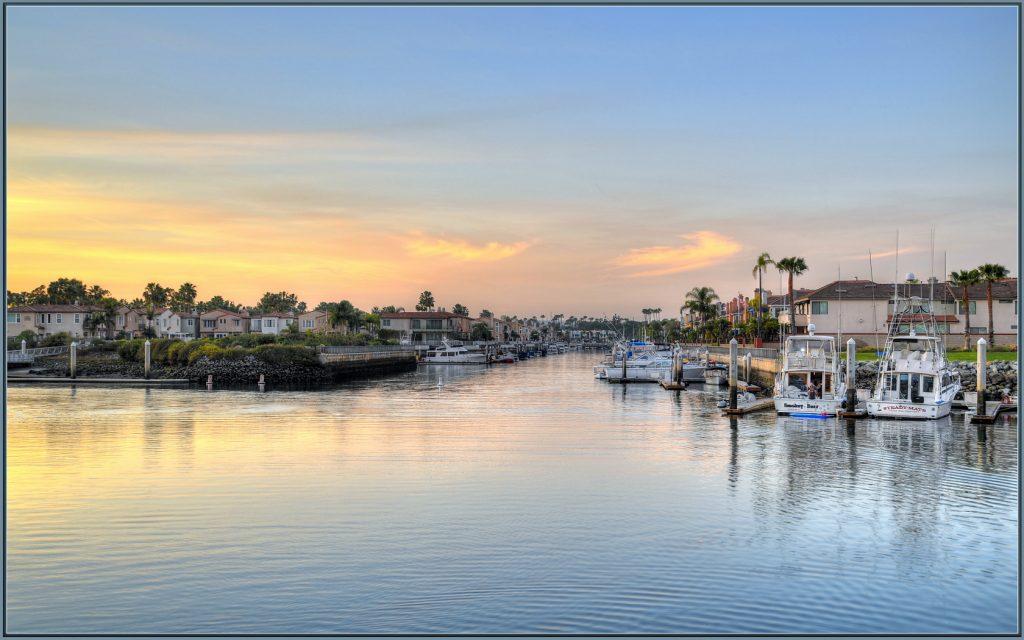 12. Technological advancement
California is one of the states with the highest concentration of high-tech workers in the nation. There are headquarters of numerous globally renowned IT companies and it is a center of new innovative solutions which rock the world.
The state is also trying to use renewable energy changing public transportation for an electric one, using solar energy, recycling litter. There is a great scientific center at the University of California too.
13. Employment
Multiple jobs and careers are the main reasons why people are thinking of moving to California. The unemployment rate in the state is a bit higher than the national one – 4.2%, however, there is an annual job growth so the chances to be employed are very high. The household income in CA is much higher than the national average and is equal to $67,169. The highest salaries are in Utilities, Professional, Scientific, and Technical Services, Extraction, and Information sectors.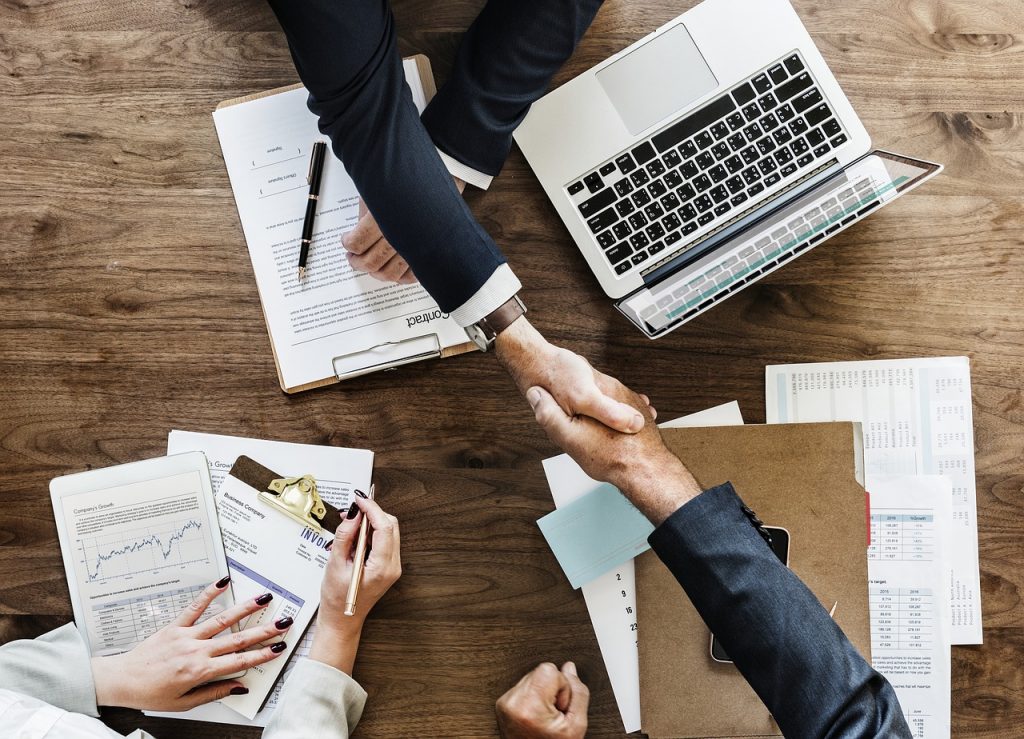 14.Vibrant arts and culture scene
California can boast different art directions developed in the state. The first thing that occurs to mind is, of course, film production, but it is not the only one. There is beautiful architecture with the architectonic reminiscences of the Spanish period and a wonderful music collection with many genres appearing on the territory of the state. It is a motherland of multiple world-renowned authors and home to dozens of notable museums. Californians are focused on environmentalism and have a unique beach culture too.
15.Sports
The state features 19 sports franchises at the moment. It is the biggest number in the US and most of the leagues are located in such big metropolises as San Francisco, Los Angeles, and San Diego. The major sports teams play baseball, basketball, football, hockey, and soccer. They have powerful fan clubs and gather thousands of spectators to watch their games in modern sports facilities such as courts, stadiums, skating rinks, football pitches, etc.
16.Transportation
The complexity and dynamics of the transportation system in California are rumored all around the US. There are many privately owned cars driven on the extensive network of highways and roads, but rail, sea, and air transport is also highly developed. There are multiple train and bus routes connecting the opposite ends of the state as well as several international airports too.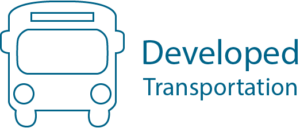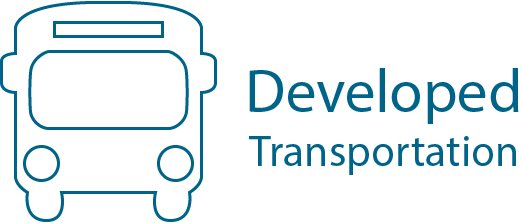 17. Tasty food
Since over 40% of California residents are foreigners and there are also newcomers from other states, the food scene in the state is flourishing. You can try dishes of almost every national cuisine here and you should not forget about ones of the oldest In-N-Out Burger stores with mouth-watering burgers.
18. A variety of sights
Being a Mecca for tourists California offers an abundance of opportunities to spend weekends visiting sights. You can stroll along the Hollywood Walk of Fame, see a magnificent The Golden Gate Bridge, visit unforgettable amusement parks, museums, zoos and botanic gardens, historic and cultural sights.
19. Celebrities and Hollywood
We got used to seeing famous people on TV or the Internet channels, but here in CA, you can come across them walking along the street. The location of Hollywood, other film studios and industries such as music, sports, TV allow living next to or even among celebrities. The biggest number of famous people reside in Los Angeles and San Francisco.
20. Envy of others
It is enough to pronounce someone from another state that you live in California to get a 'wow' effect. It is considered to be prestigious to live in the Sunny State even if you are a blue-collar worker who rents a flat in the suburbs together with a friend. Everyone would like to live in CA but far not everyone can afford that.
Cons of moving
Is it worth moving to California? This question interests many people since more and more citizens decide to leave this state. That is why it is very important to learn not only positive sides of living in the Golden State but find out challenges you may face there.
There are things you should know before moving to California to be prepared for the obstacles which may await you on your way to success.
1. Prices for housing
The median home price in California is twice higher than the national average. Nowadays, you need $548,600 to be able to buy an average home. Rentals are also much more expensive being $300 higher for a 1-bedroom apartment and about $800 higher for a flat with 3 bedrooms.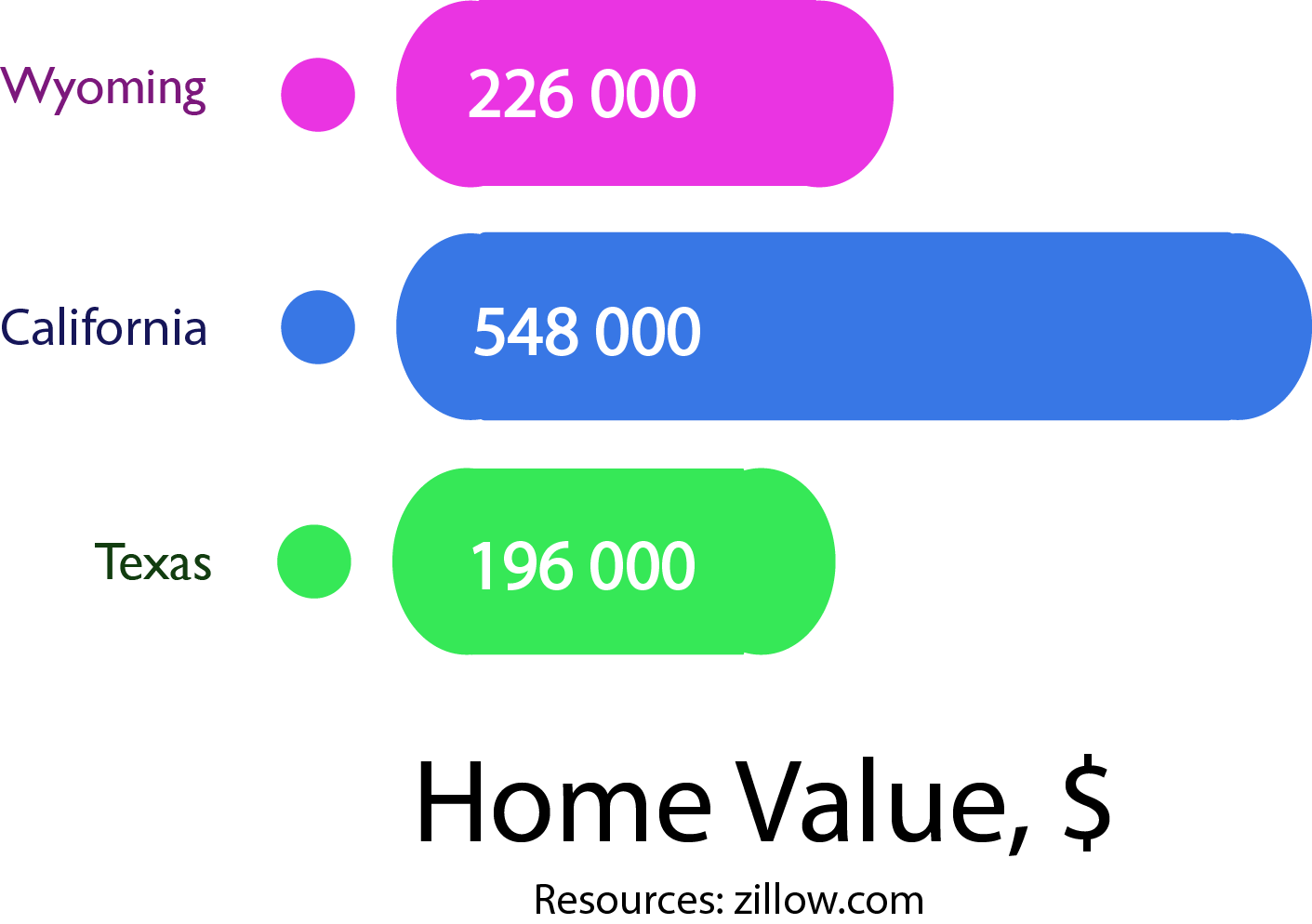 2.Cost of living
Despite the fact that the main factor that influences the cost of living in California is prices for homes, other factors such as transportation, groceries, utilities are also over the national average level.
3. High taxes
The state has the highest taxes all around the country. The base sales tax is equal to 7.25%, while the state income tax is 12.3%.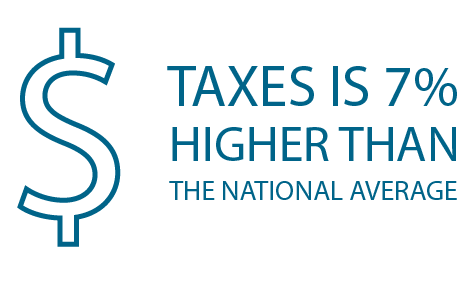 4. Heavy traffic
California has many large cities and all of them feature congested roads. Los Angeles, for example, can claim the worst traffic all around the US. According to the statistics of such metro areas, 77% of people use public transport very rarely and drive cars predominantly. Moreover, car sales continue to grow in California, so this tendency will only worsen with time.

5. Natural disasters
California features different natural hazards for people living in the state. You can often hear reports about earthquakes, mudslides, wildfires, and nobody is insured against getting in these troubles.
6. High population density
Do you want to live like an ant in the ant house? Probably, you will feel the same in California with a population density of 250 people per square mile. Moreover, over 38% of them claim Hispanic ethnicity and over 13% are Asian – more than half of the total state population.

7. High crime rate
The crime index in California is higher than the national average one. The index of violent crimes is 25.2 (2.5 points higher) and the index of property crimes is 37.1 (1.7 points higher). However, it is worth stating that crime rates in bigger cities are much higher than in rural areas, so it is not absolutely safe to live there.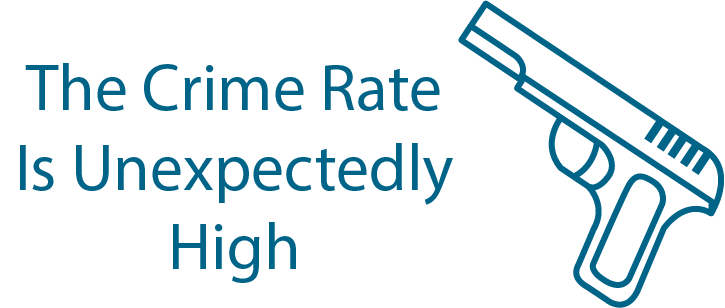 8. Smog
The Golden State is always reported about poor air quality and smog covering its territory. The reasons for that are an activity of 40 million people, warm climate, unique topography, car exhausting fumes etc.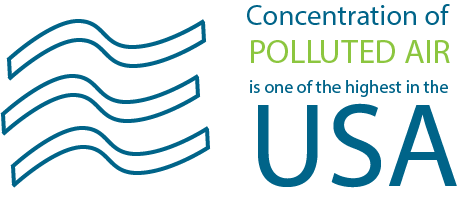 9. Poverty
Despite such big indices of economy, over 14% of locals live beyond the poverty line. 2 million of them are children. In this negative rating, California takes the first prize, unfortunately.
10. Regular visits
Being a popular tourist destination about 250 million people travel to this state annually. It means that the population of the state doubles. If you have relatives and friends who know that you live in California, prepare for their regular visits. Who will lose a chance to save on dwelling?
Moving to California guide
Moving is a stressful process so it is better to be prepared for relocation to complete it successfully. That is why it is important to consider tips for moving to California and head for the new place of living confidently.
Plan your move to California in advance if it is possible. Early booking and avoiding peak season (spring and autumn) can help you to make relocation more affordable and scheduled. It is cheaper to move in winter and snow is a rarity in the state.
Find an apartment or home. It is better to consult friends or relatives living in California about the neighborhood, prices, amenities. Make up a checklist of things to be moved to be confident that they fit your new home.
Set up the utilities one-two days prior to your arrival to avoid discomfort.
Consider the time of arrival since the heaviest traffic is between 6AM and 9AM as well as 3PM and 7PM. Prepare a parking place for a truck.
Complete the change of address 7-10 days prior to the move. Warn your bank, utility providers, post office about your leaving and provide them with your contact information.
Save some money to be able to earn your living by the time you get employed.
Consider renting an apartment with anyone to share the cost.
Think of buying a car. It is much easier to get anywhere by car than rely on public transportation which is rather costly.
Register your car, change your driver's license (if you have come from another US state), and register to vote upon arrival.
Prepare for conserving water. There is a shortage of this resource and its usage is regulated strictly.
Best places to live in California
For someone, California is a paradise while for others, it is a night horror. So many men, so many minds. What is great for one can be awful for another person. That is why we decided to suggest the best places for living for different categories of people. The analysis of many different factors and figures allowed us to make the following conclusions.
Families with kids
When a family with children moves to California, it requires a safe and comfortable place for living with all the necessary facilities and reasonable commute time. According to Niche.com, the best neighborhoods for families are located in Palo Alto and the suburbs of San Francisco.
Homesnacks.net mentions another top of the cities for families in CA in 2019. The leaders of the rating are Imperial, Moorpark, Palo Alto, Los Gatos, and Folsom.
Young professionals
According to CreditDonkey.com, young people who have just graduated from colleges and universities should prefer the following cities for living in California: SunnyVale, Mountain View, Irvine, Santa Clara, and Orange. Rentberry.com considers metropolises such as San Francisco and San Jose the best choice for young adults.
Retired 
California can be a perfect place for retirement if you choose the right city. According to Investopedia.com, the best CA cities to spend your elderly years are Eureka, Redding, San Luis Obispo, Riverside, and Palm Springs.
Living cheaply
Despite a very high cost of living, California also has quite affordable places for a living. StudentLoanHero.com suggests the top 7 cities which are the cheapest in the Golden State. These are Eureka, Oxnard, Redlands, Chico, Temecula, Clovis, and Vacaville.
Luxurious living
People who look for luxury and comfort and do not count money will undoubtedly find great destinations to relocate to in California. Naturally, these are usually coastal cities with a highly developed infrastructure. The top 5 from USAToday.com includes San Jose, Santa Cruz, San Francisco, Napa, and Santa Rosa.
Peaceful and safe living
Whether you are moving to California alone or with your couple and want to live in a silent and secure city, it is necessary to consider the following information. The resource SafeWise.com has compiled a list of the most secure places for living in the Sunny State. The leaders of this rating are Danville, Irvine, Rancho Santa Margarita, Yorba Linda, and Murrieta.
Fun living
Do you want to fill your life with fun? It is enough to settle in the necessary city and you will never feel sad there. California is a popular tourist destination so there are several cities not to leave you indifferent. The most fun places to live according to RealEstate.USNews.com are
San Diego, San Francisco, Los Angeles, Santa Rosa, Sacramento, and Fresno.
Hire long-distance movers to California
Is moving to California a good idea? Undoubtedly, if you have evaluated all the benefits and drawbacks of this decision and prepared for relocation thoroughly. The only thing left, in this case, is the choice of one of the reputable full-service California moving companies.
California Movers has deserved the trust of thousands of our customers by making their long-distant moves smooth and coordinated. It can be a pleasure to move across the country if you know that you have a professional assistant to rely on. With our moving team, your relocation to California will be associated only with positive recollections since you cooperate with experienced and dedicated movers. Our main goal is to change our customer's attitude toward moving and prove that this experience can be positive and memorable. It is enough to hire California Movers!
(415) 579-2747